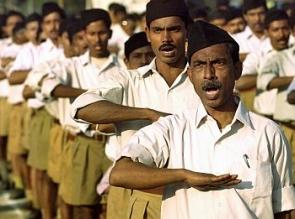 The Rashtriya Swayamsevak Sangh on Saturday differed with Gujarat Chief Minister Narendra Modi over Rahul Gandhi's statement on the Inter Services Intelligence's attempt to lure Muslim youths in riot-hit Muzzafarnagar, saying it "is to an extent right" and the United Progressive Alliance government needs to act firmly against such tendencies.
"Rahul Gandhi's claim at a poll rally in Indore is right to an extent. The UPA government needs to take firm action against such tendencies," RSS Joint General Secretary Dattatreya Hosabale told reporters.
He was replying to a question on what he thought of Gandhi's claim at a poll rally -- where he had said the ISI was in touch with Muslim youth of Uttar Pradesh's Muzaffarnagar area.
RSS's stand was at variance with that of Bharatiya Janata Party's prime ministerial candidate Modi, who had asked the Congress to either reveal the names of the youths or to apologise for the Muslim 'terror slur' by Rahul Gandhi.
"Rahul Gandhi may have achieved that wisdom. But he must follow up the words with firm action against such terror elements," Hosabale said.
"Being an MP, Rahul may have got the information. Nothing wrong in Rahul getting the information. We also get information from various sources. Those in public life will have such connections. The information given by him should be pursued,' he said.
Modi had lashed out at Gandhi on Friday at a rally in Jhansi over his remarks, alleging that the Congress Vice President had defamed Muslims.
The RSS leader said though Rahul Gandhi feels the ISI is responsible for recruiting people for terror activities, the prime minister still wants to hold talks with his Pakistani counterpart, "though the entire nation is against it".
Asked if the RSS's priority was temple or toilets, he said the country needs both.
"There is no question of priority. Both are basic needs," Hosabale said.