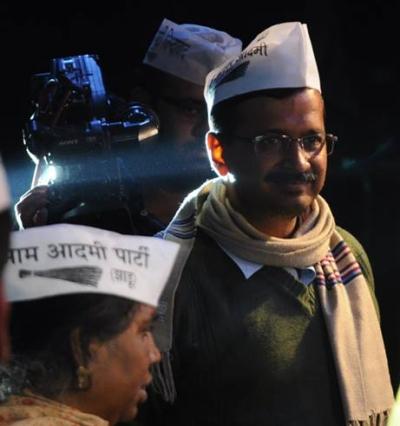 Aam Aadmi Party convener Arvind Kejriwal on Monday hinted that a sum of Rs 1,400 crore has been distributed among a few media houses to allegedly portray his party in a bad light.
"I am told Rs 1,400 crore has been distributed to a few media houses. Who are these media houses? Any guesses," Kejriwal said in a post on micro-blogging site Twitter.com.
Kejriwal's allegations come at a time when his party finds itself caught up in row over a sting operation that purportedly shows some AAP candidates raising funds through illegal means.
"The CD episode has clearly shown who are the black sheep within the media. Guess which of these channels would have got how much of the Rs 1,400 crore?" Kejriwal added.
AAP, meanwhile, charged the website, mediasarkar.com, which carried out the sting operation, of having committed fraud by "doctoring" the video.
The AAP has alleged that it is the BJP and the Congress which were behind the sting operation.
It has warned that criminal and civil defamation suits would be filed against the website and the media houses which telecast any footage of the sting operation.
"We will send criminal defamation notices to such media houses and to Anuranjan Jha (CEO of the portal)," Kejriwal said.
Image Courtesy: www.facebook.com/AamAadmiParty/