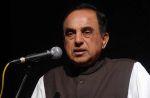 The row over Congress' loan to a company on Friday escalated with the party and Janata Party chief Subramanian Swamy daring each other to file cases as Bharatiya Janata Party waded into the controversy seeking a specific answer whether money was transferred from AICC.
A day after Swamy alleged that Rahul and Sonia Gandhi were behind the Congress giving a loan to Associated Journals in violation of tax and election laws, the Congress party asked him to sue the Gandhis contending that the onus to prove the allegations lay with those who make them.
"If Swamy has the guts, he should sue Rahul Gandhi and Sonia Gandhi. It is for those who make allegations to prove the charges. If there is a violation, let them take it to court," Congress spokesperson P C Chacko told reporters at the AICC briefing.
Neither Chacko nor any of the Congress leaders, including Oscar Fernandes, one of the five shareholders in Young Indian, which bought the shares of Associated Journals, and the new I and B Minister Manish Tewari chose to go into the merits of Swamy's allegations.
They all maintained that it was not worth replying to and Rahul Gandhi had given a suitable reply on Thursday's night in the form of a legal notice to Swamy, including a threat to sue him.
Rahul had threatened to pursue "all legal actions" against Swamy dubbing his allegations as "utterly false, entirely baseless and defamatory".
Chacko said "now the bluff master (Swamy) will face the music" but refrained from giving a categorical reply whether Congress would sue the Janata Party chief as suggested by Rahul.
Hitting back, Swamy said "Rahul should sue me instead of writing dirty letters. I am going to court as I have done in 2G and other cases.
"The court will ask me whether I have exhausted all options. That is why I have written to the prime minister and the Election Commission for action. I will give them sometime, wait for their responses. After that I will go to court."
BJP also made common cause with Swamy by asking Congress to clarify whether it gave a loan of Rs 90 crore to Associated Journals, which ran the now-defunct National Herald daily, saying, if true it was violation of tax and electoral laws.
In Shimla, Leader of the Opposition in Rajya Sabha BJP Arun Jaitley said he merely wanted a specific answer from Congress and not adjectives like 'baseless and untrue' as was used in a communication issued by Rahul Gandhi's office.
Raising questions on the basis of details provided by Swamy, Jaitley said if it was true that such a transfer of funds had taken place, then it could lead to various consequences for Congress, including withdrawal of tax exemption and registration by the Election Commission.
He said if Congress were to say that what Swamy has alleged was wrong, then the matter ends. If not, then the whole issue is one of "gross impropriety and gross illegality".
The former law minister maintained a political party can use its funds only for political purposes and not any business or financial activity.
External Affairs Minister Salman Khurshid, who was earlier in-charge of corporate affairs, expressed surprise over the allegations.
"I am absolutely clear in mind that there is absolutely no reason for anybody to put a question mark on this. If anything, this should be treated as an example of good governance, transparency and accountability rather than treated as example of the opposite," he said.
Khurshid reasoned that in this case, a non-profit company has been created. "It is a section 25 company and hence a non-profit company. A non-profit company means that no dividends are paid. So, I am little bit surprised that any issue should have been made of this."
He said that having been a corporate affairs minister, he knows there are amendments made to structures of institutions, "where sometimes for greater clarity and accountability, you try to move from a system of Trust to Society, from Society to a company".
Information and Broadcasting Minister Manish Tewari lamented the "culture of shoot and scoot" saying it has far-reaching implications. He said the allegations were "completely absurd and hold no truth".