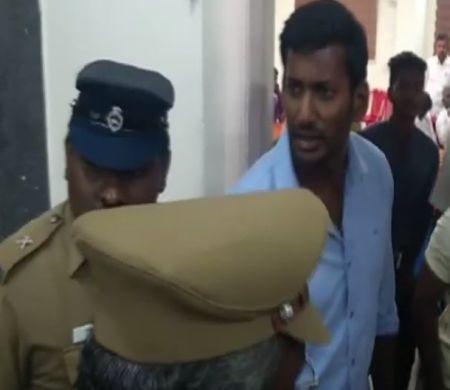 Actor Vishal Krishna claimed on Tuesday that his nomination for the December 21 R K Nagar bypoll has been accepted by authorities after a scrutiny of a complaint in respect to signatures in the application form.
"The nomination that I filed has been accepted. I thank the Election Commission," he said.
When asked if Vishal's claim was true, the returning officer K Velusamy said that the matter was still under process.
"No, it (Vishal's representation challenging the rejection) is under process. We will issue orders," he said.
Answering a question on the reason for the rejection, Vishal, who also heads Tamil Film Producers Council, said a complaint was filed claiming that two signatures in his nomination form belonged to some others.
"After investigation (by poll authorities), it was found that there is no truth in it and my nomination is accepted," he said adding independent candidates stood behind him in his efforts.
Authorities did what was needed to be done "in a fair manner," Vishal said.
He said he will be meeting the electorate from Wednesday and "face the election honestly."
In a tweet, the actor said, "After much struggle, my nomination for the RK Nagar election is finally accepted.... Truth Always Triumphs!"
Earlier, the nomination papers of Vishal and late J Jayalalithaa's niece Deepa Jayakumar were rejected by election authorities.
Along with several of his supporters, the actor staged a sit-in on the road near the office of the returning officer in North Chennai protesting the decision to reject his papers.
He was removed from the spot by the police.