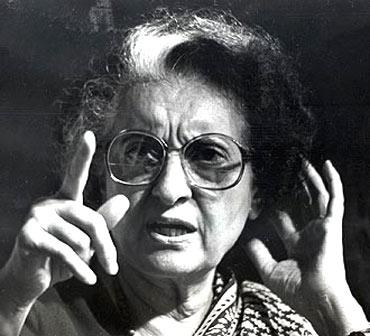 The home ministry has expressed reservation and serious concern over the contents of a Punjabi film on former Prime Minister Indira Gandhi's assassination and asked the information and broadcasting ministry to take a relook at the clearance given to it.
In a communication to the I&B ministry, Home Ministry has said that Punjabi-language film Kaum De Heere, which is scheduled to be released on Friday, may affect the communal harmony in Punjab and other northern states.
The home ministry told the I&B ministry that some of the content in the film was "highly objectionable" and may create enmity between communities and lead to communal tension.
Sources said that the film, which is reportedly based on the lives of the assassins of the late prime minister – Beant Singh, Satwant Singh and Kehar Singh -- glorifies their act.
There have been reports that Censor Board CEO Rakesh Kumar, who was arrested recently by Central Bureau of Investigation on corruption charges, gave clearance to the film after allegedly taking a bribe of Rs 1 lakh.
The Punjab units of Congress and Bharatiya Janata Party have demanded a ban on the controversial film. The film's producer, Pardeep Bansal, has said that the film is based on true incidents, as per the findings of the Justice Thakkar Commission which had probed the assassination of Gandhi.
"It is a completely balanced film wherein no religion or sect has been belittled. Some people are unnecessarily trying to create a controversy without watching the movie," he has said.
The Censor Board passed the film with an 'A' certificate and it is scheduled to be released on Friday in more than 100 cinema halls in north India.
Gandhi was shot dead by her two Sikh bodyguards at her official residence in New Delhi on October 31, 1984.