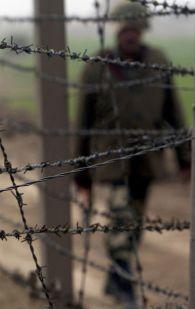 Pakistan High Commissioner to India Salman Bashir said there was need for a "broad-ranging, sincere and clear-sighted" dialogue between New Delhi and Islamabad to resolve all issues between the two countries.
"If there are issues (for India), we have concerns equally. Let us address each others' concerns and the logical and rational way forward...the civilised way is to have a dialogue. Pakistan is ready for this," the high commissioner, who is on a three-day visit to Hyderabad, told a press conference.
Bashir also stressed on the need to reinforce ceasefire along the Line of Control between the two countries even as he denied as "baseless" the reports of terrorists "incursions" into Indian territory from Pakistan.
"There is a will and determination on both sides to build friendship and improve relations. The one logical way for this and to resolve all issues is through dialogue. That is essential for the development of the two nations," the Pakistan high commissioner said.
"We have no second thoughts. In Pakistan's national interest, we need to have good relations with India. Aspirations in the two nations are the same. Ground realities should be looked at in an objective way," he said.
Reacting to a question on incursions from Pakistan into India, Bashir claimed: "All this narration you are hearing about incursions and infiltrations is baseless. But, rather than commenting on this very negative narrative about incursion...what we have been saying and say again and repeat...let the competent authorities, the military authorities, deal with this issue."