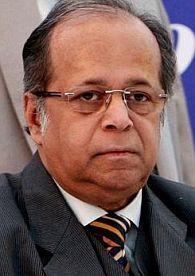 As Justice (retd) A K Ganguly faced calls to quit as chief of the West Bengal Human Rights Commission, faculty members of the premier National University of Juridical Sciences on Wednesday demanded his removal as honorary professor.
The retired Supreme Court judge, meanwhile, kept his cards close to chest in the event the law intern, who has levelled a sexual harassment allegation against him, filed a police complaint, saying he was yet to decide his future course of action.
"I have not decided anything on the future course of action. I won't say anything now," Justice Ganguly told PTI when asked what would he be his next step if the law intern filed a police complaint against him.
The intern has hit back at Ganguly for denying the charges and hinted that she might file a police complaint.
Reacting to the demand by the WBNUJS faculty, Ganguly said, "I have not heard about any such thing as of now. First let me hear then only I will comment."
The faculty members alleged that Ganguly was trying to do a "character assassination" of their ex-student and demanded his removal as an honorary professor of the law institute in Kolkata. "We are particularly appalled at the insinuation by the retired judge that she is a political pawn and strongly condemn this character assassination," a statement signed by 12 faculty members of (WBNUJS) said. It also voiced concern against "unwarranted statements" from several quarters attributing political motives to the intern's blog posts and deposition.
Justice Ganguly is facing strident demands to step down as the chairperson of the WBHRC following indictment by a three-member panel of apex court judges over the intern's allegation.
Stating that Ganguly's continued association with the institution undermined the ideals of NUJS that has always strived to teach and foster justice, including gender justice, the faculty requested the varsity's administration to take immediate steps to see to it that necessary action is initiated against the former judge.

"We believe that the position of a professor is that of trust, and requires that such person be above reproach, especially above allegations of misbehaviour with students, particularly when such allegations have been found to have prima facie merit by a high level committee," they said.