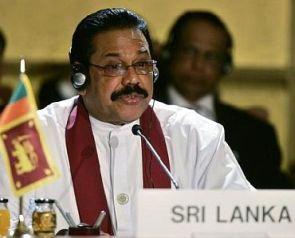 Sri Lankan President Mahinda Rajapaksa on Tuesday expressed regret over an objectionable article on Tamil Nadu Chief Minister J Jayalalithaa posted on the Defence Ministry website that triggered a furore in India.
"I regret that it has happened. I have called for a report on it," Rajapaksa said. The article titled 'How meaningful are Jayalalithaa's love letters to Narendra Modi?' had appeared on the Lankan defence ministry's website along with a graphical portrayal of Prime Minister Modi and Chief Minister Jayalalithaa.
The defence ministry later removed the article from its website and offered an unqualified apology to India. "We extend an unqualified apology to the Prime Minister of India and Chief Minister of Tamil Nadu," it said in a statement posted on its website.
Maj Gen Kapila Hendavitharana speaking on behalf of the defence ministry said the article had been posted on the defence ministry website without permission.
Hours after the article was published, it created a furore in India, with Bharatiya Janata Party allies Pattali Makkal Katchi and Marumalarchi Dravida Munnetra Kazhagam seeking severing of diplomatic relations with the island nation.
Jayalalithtaa had urged Prime Minister Modi to seek an unconditional apology from Lankan government over the article.