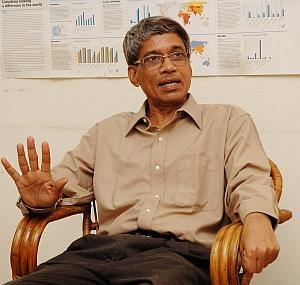 'Ours is an unrecognised body. From politicians to the tribunal, nobody has acknowledged us. Nobody is even willing to talk to us. We have not been invited to any meeting. Even if we come out with a solution, who will implement it,' asks Professor S Janakarajan, the man behind Cauvery Family
Professor S Janakrajan of the Madras Institute of development Studies is the man behind the Cauvery Family, a group of farmers from both the warring states, Karnataka and Tamil Nadu, that was formed in 2003.
He specialises in agrarian institutions, interlinked agrarian markets, water management, water conflicts, stakeholder analysis and multi-stakeholder dialogues, environment, urban and peri-urban issues, disaster management and livelihood resilience.
In this interview with Shobha Warrier, he talks about how the Cauvery Family was born, and how the members are coming out with a solution to sharing water between the two states.
Was it your work on water conflicts that led you to the Cauvery Family being founded?
Not exactly. In 2002, I had organised a multi-stakeholders' dialogue initiative to resolve the long-standing issue of river pollution in the Palar river basin. This was caused due to the discharge of untreated effluents by over 750 tanneries in that basin.
Research on this issue for over five years had prompted me to organise the dialogue initiative in this basin involving tannery owners, farmers, non-governmental organisations, academics, government officials and civil society.
This initiative turned out to be a success in so far as creating awareness, to make tanners responsible for the damages done to the basin and to create some degree of understanding between farmers and tanners.
A committee of stakeholders was formed in this basin in 2002 which even now meets somewhat regularly. It was this that made me think about trying to resolve inter-state water disputes also.
Was it the time when the Cauvery water dispute also erupted to a very high?
Yes, the dispute intensified in the 1990s and continued for a few years. That was the time both the states fought hard for the water in Cauvery; Tamils were being driven out of Bengaluru and many such ugly incidents happened. That was when I thought of applying the same approach as I did in the Palar basin.
Was it your initiative?
Yes. In January, 2003, I went to Karnataka and met many farmers, their leaders and suggested a meeting of them with their counterparts in Tamil Nadu. I also met many activists there. Almost all of them said, it was a very good idea but they were apprehensive about the practicability of it.
I got a funding of Rs 5 lakh from the International Water Management Institute based in Anand, and with that money I arranged the first meeting of 60 farmers each from both Karnataka and Tamil Nadu in Chennai in April 2003. It was an excellent meeting of 120 farmers and other activists.
What did the farmers discuss?
You can't even call it a discussion. The first day farmers from both sides argued and shouted at each other. We didn't stop the arguments; just let them release the steam. Both accused each other of cheating. The Karnataka farmers accused the Tamil farmers of growing three crops when they were not even allowed to grow one crop.
It was when farmers from Tamil Nadu told them that they did not grow three crops, there were only three seasons.
On the second day, they cooled down a bit. When the meeting ended, for the first time in history, farmers from both sides shook hands, which I felt was a great achievement.
In June 2003, I took the same 60 Tamil Nadu farmers to Karnataka for another round of meeting in Bengaluru. There were no big arguments in that meeting, and there were a lot of constructive suggestions that emerged.
At the end of the meeting, we formed a committee and formally named it the Cauvery Family. It was born in June 2003 with 32 members from both sides. Today, we have 18 members each from both sides in the family. After that, we decided that only the committee members would meet.
Did you take the farmers from Karnataka to the Cauvery delta in Tamil Nadu?
Yes, we had our first meeting at Thanjavur. It was a fabulous meeting and after that, I took them all to the Cauvery delta in a bus. It was a field visit. People such as KS Puttannaiah, KC Basavaraj, etc were all there in that group.
How did they respond when they were taken to the delta?
In fact, Puttannaiah cried when an old lady took his hands and pleaded, please give us some water. She showed him the dry farm and told him of their plight. Puttannaiah was in tears on seeing the pathetic condition of people in the delta. He said that this was not the picture of the Cauvery delta that they had in their minds.
Did you take farmers from the Tamil Nadu side to Karnataka too?
After three-four months, I took all the Tamil Nadu farmers to Karnataka to show them the fields there. That was the first time the Tamil Nadu farmers visited the reservoirs and farms in Karnataka. Till then they had only heard about it.
They saw the dams, the fields, everything. Till then, they were under the impression that Karnataka farmers were storing water in tanks located all over. What they saw was another picture.
After that, the Cauvery Family met 16 times.
When they met so many times, did the farmers of both sides make any resolution that there would be peace on both sides?
Many resolutions were passed that there would be peace, that they would not fight and there would not be any violence. The bone of contention is, how to share water during distress years. So, we developed five formulae for distress water sharing first which got reduced to two and then, one. But I can't divulge what the formula is now, as we are still discussing it.
In the current agitation, active members such as KC Basavaraj are not a part. Real farmers are not part of the agitation; only some chauvinistic elements are there. So, farmers are urging us to convene a meeting to talk about the real issue. We will meet either by early November or end-November, in Tiruchirappalli in Tamil Nadu.
How successful has been the constitution of Cauvery Family so far?
The Cauvery Family has not been able to find a solution so far. We are at the final stages, though.
We have acknowledged that although Bengaluru is not a part of the Cauvery basin, Cauvery water should be given to the city. There are some grey areas still.
You must understand that this is an issue that has been dragging on for 24 years, even after the constitution of the Cauvery tribunal. The tribunal had given the final award in 2007, and after that all the states have submitted review petitions. When all the official agencies have not been able to find a solution, you cannot expect the Cauvery Family to come out with a solution in such a short time.
Ours is an unrecognised body. From politicians to the tribunal, nobody has acknowledged us. Nobody is even willing to talk to us. We have not been invited to any meeting. Even if we come out with a solution, who will implement it?
Everybody has been talking about the Cauvery Family except the authorities. Why is it so?
That is my question too. I must say the media has been extremely supportive of us. Some newspapers have even written editorials on the Cauvery Family. But the politicians are not willing to listen to us.
There was a news report that Karnataka farmers have accused the Tamil Nadu politicians of influencing the farmers here.
That is absurd. No politician has met any of us.
How open are the farmers about give and take?
They are extremely open. When there is rainfall, the farmers of that side immediately talk about giving water to Tamil Nadu farmers. In 2010, I think, when former Karnataka chief minister Yedyurappa reduced water from KRS and Kabini, it was the Cauvery Family members in Mysore and Mandya who requested him to release water to Tamil Nadu.
The Cauvery Family members feel that we have had enough of competitive politics.
It was reported that water from Cauvery has been diverted for industrial purposes in Tamil Nadu when it was needed for agriculture...
In fact, I tell them that after some time, you will not see the Cauvery river, you will see only rock, soil and sand.
Yes, Cauvery water has been diverted for industrial purposes, urban needs and, above all that, used, polluted water is sent back into the river. Not only industrial pollution but urban waste and sewage is also sent to all the five major tributaries of Cauvery in Tamil Nadu.
Finally, all this is taken down to the delta. The delta is very vulnerable now, and that is due to all these reasons.
I assure you that if we modernise our canal network, we can save at least 30 per cent of the water we currently use.
It is during distress years when Karnataka doesn't have enough water for their own use that they refuse to release water.
Karnataka is not accepting the river as an ecosystem. The river gets its meaning only when it flows. Karnataka seem to be saying, we will not give you a drop of water because we don't have enough water for ourselves. It's a bad argument.
When a river starts in one place and flows downstream, it passes through a huge distance. You cannot stop its flow. It has to carry some water till its delta.
Who owns the water in the river, those who stays where it originates, or those who stays where it ends or those who live in the places where it passes through?
In legal terminology, a river is not owned by anybody. People only have the right to use water from the river. You have to uphold certain international principles of the river system which includes the river, river ecosystem and river basin. This has to be acknowledged.
When there is a huge flood, can you stop the river? A river is a river and water has to flow.
Where will these water conflicts lead to? For example, a state such as Tamil Nadu has water conflicts with all the three southern states.
Every country has its own laws to resolve its water conflicts. You should expect these water conflicts to emerge as claimants of water and users of water are increasing day by day but water availability remains the same. So, water conflicts are bound to occur. Only through legal mechanism can you resolve the problem.
In India, there are many unresolved interstate water conflicts despite the intervention of the tribunal and the Supreme Court. Politicians also do not want to resolve these conflicts because of competitive politics. If a government takes a firm decision, these conflicts can be resolved easily.
The last time when I interviewed you, I asked you about the interlinking of rivers. Let me ask you again. Former President Abdul Kalam recommends it as a solution to solve water conflicts. Are you still against interlinking of rivers?
I am. Why do you have to interlink rivers? It is only a technocratic solution. Even if you were to interlink all the rivers by constructing dams and so many thousand kilometres of canal network, it is not an answer to the conflict. One thing, you need tremendous amount of money for that.
When it was first talked about in 2002, the estimated cost was about Rs 5.5 lakh crore. Today, it might have gone up to Rs 20 lakh crore. Assuming you spent that much amount in interlinking the rivers, don't you think you need at least 10 per cent of that Rs 20 lakh crore for maintenance? Do you have that kind of money?
Secondly, it is not an easy task to divert the flood from Narmada or the Brahmaputra or the Ganga. A flood is a flood.
Another thing is, when it is flooded in one river, mostly it is flooded in other rivers too. You need water when rivers are dry here. When it is dry here, it is dry there too.
Also, wherever you are going to have dams and canals, you are going to destroy the ecosystem.