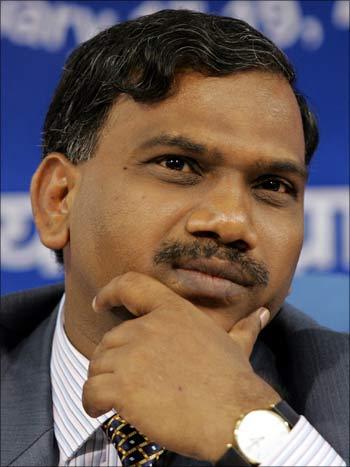 Former Telecom Minister A Raja on Sunday said he was ready to serve life imprisonment if a single rupee or dollar was found in any offshore account in his name.
Replying to queries from Rajat Sharma, Raja who appeared on the Aap Ki Adalat show on India TV, said, "I was arrested on February 2, 2011.On February 11, The Times of India carried a front-page story quoting the Central Bureau of Investigation sources saying Raja was keeping Rs 3000 crore in banks abroad."
"The same day I went to the judge, showed him the newspaper report and said, I want to challenge the income tax, the Enforcement Directorate and the Central Bureau of Investigation. If they find one rupee or a dollar in my name (overseas), I will not contest the case and I will live my entire life in jail."
Raja added, "In 2013, six months ago, the CBI told the court that they raided me, my relatives and my friends, and they did not find any disproportionate money."
Replying to a volley of questions from Rajat Sharma, the former telecom minister claimed that he did not keep the prime minister (Dr Manmohan Singh) in the dark about the 2G spectrum allocation and everything was done in accordance with the national telecom policy and Cabinet guidelines.
"The CAG", he said, "failed to differentiate between 2G and 3G. 2G is meant for voice and 3G is meant for data transfer. You can't compare PDS (public distribution system) rice with basmati rice. The rates will definitely be different".
Raja described as "odious" his comparison by Time magazine in its May 2011 issue to former Libyan dictator Muammar Gaddafi. The list had put A Raja in the second spot among powerful people who misused their position to earn ill-gotten money.
"It is unfortunate that whatever the media puts up is largely believed on the basis of assumptions and not on the basis of record."
"I am not accusing any television channel or mediaperson, whatever term they want to use (against me), let them. But my sincere appeal to them is, 'Why do you want to call it a scam, unless and until there are documents to prove so?'"
"They are comparing me with Gaddafi. The comparison itself is odious. I brought in a revolution in the telecom sector. It is not unknown to history that a person who is behind a revolution is often termed as a criminal or as a personal involved in a scam."
Raja claimed that it was he who lowered the telecom tariff to 50 paise a call and raise rural tele-density in India from eight per cent to 45 per cent.
The former telecom minister, who is contesting from the Niligiris, Tamil Nadu, on a Dravida Munnetra Kazhagam ticket, said, he was probably victimised by some telecom operators, whose business was going to be affected by the 2G spectrum allocation.
"There is a complete institutional aberration. The PMO is on one side; the cabinet is on the other side. The planning commission is on one side and the CAG is on one side, The CBI is on one side and they are fighting each other and Raja is inside (jail). Give me a solution."
"I am challenging them through this forum. Let all these institutions come together (and say) Raja did wrong."
When Rajat Sharma asked why he was the only one being targeted, Raja replied, "Definitely cartel forces must be behind it -- those who were losing business. Of course telecom is very big."
"I think that they must have been afraid of what Raja was going to do. It would have a complete aberration on the business network that was created by these people."

Image: Former telecom minister A Raja