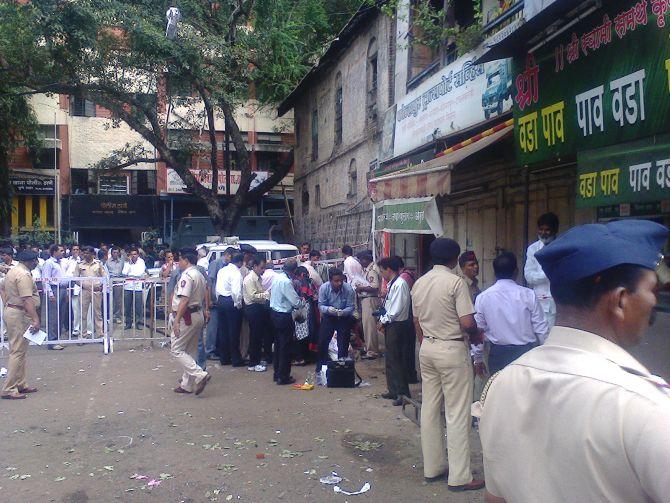 The Centre is waiting for the report of the Maharashtra Anti-Terrorism Squad, which is probing the blast in Pune, Home Minister Rajnath Singh said on Friday.
"The ATS is probing the case. Once their reports comes, we will be able to tell you the details," he told reporters on the sidelines of a function. Meanwhile, investigators probing Thursday's blast in Pune has found that the bomb comprised about 200 gram of ammonium nitrate and some amount of Improvised Explosive Device, Home ministry sources said quoting a preliminary report sent by Maharashtra government.
Timer and detonator were used besides minimum amount of shrapnel which led the police to assume that idea of the explosion was not to kill people but create panic, they said.
Even though no group has so far claimed responsibility for the explosion, investigators are not ruling out the possibility of the involvement of banned terror group Indian Mujahideen, sources said. The "low-intensity" blast occurred near Pharaskhana police station, close to the famous Dagdusheth Halwai Temple in busy Budhwar Peth area in Pune, injuring five persons.
Pune was rocked by four coordinated low-intensity explosions on 1 August, 2012 which had left one person injured. The city had come on the terrorists' radar for the first tine when 17 people were killed and around 60 injured in a powerful blast at German Bakery, one of Pune's favourite eateries, on 13 February, 2010. Indian Mujahideen was blamed for both the attacks.