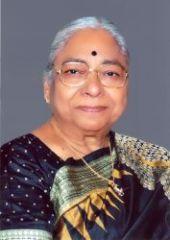 Rajasthan Governor Prabha Rau died at the All India Institute of Medical Sciences in News Delhi on Monday after she was admitted to the hospital following a heart attack.
75-year-old Rau was found unconscious on Monday morning in the bathroom of Jodhpur House in New Delhi and was immediately taken to the hospital, a state government spokesman said.
Congress President Sonia Gandhi was among the first to visit the hospital.
Chief Minister Ashok Gehlot has rushed to Delhi from Jaipur after hearing the news.
A former president of the Maharashtra Pradesh Congress Committee, Rau had earlier served as Himachal Pradesh Governor. She was shifted to Rajasthan in Janaury this year.