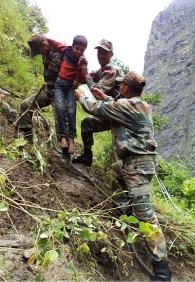 Fresh spell of rains on Sunday halted helicopter operations to ferry rations to remote Uttarakhand districts which are reeling under a shortage of foodgrains.
The Badrinath highway was also closed for three hours due to incessant rains leaving 500 vehicles, including many carrying relief material, stranded. The highway was later opened for traffic.
"Chopper operations to drop relief material have been stopped due to rains. Cremation of bodies in Kedarnath also could not be taken up due to rains," Inspector General Ram Meena said.
As the network of major roads in these districts are still damaged, making it impossible for the administration to transport trucks carrying relief material to affected villages, especially the ones which are totally cut off, the state government was thinking of deploying weather resistant choppers to ensure food supplies to villages facing foodgrain shortage, an official said.
The state Disaster Management and Mitigation Department will hold an emergency meeting on Sunday to discuss how choppers capable of flying even in bad weather can be pressed into service.
Meanwhile, the Associated Chambers of Commerce and Industries on Sunday sought a special aid of Rs 10,000 crore from the Centre for rehabilitation and redevelopment work in disaster-hit Uttarakhand.
The demand is based on the recommendation of an ASSOCHAM team which surveyed the affected areas in the worst hit Rudraprayag, Uttarkashi and Chamoli districts to prepare an estimate of the devastation caused to infrastructure and villages by the recent natural calamity, ASSOCHAM Secretary General D S Rawat told reporters.
Wet weather and lack of heavy equipment were also coming in the way of removal of debris and disposal of bodies in Kedarghati.
The lightweight equipment provided by the National Disaster Relief Force is proving inadequate to remove tonnes of debris in Kedarghati under which bodies may still be lying, officials said.
Paucity of foodstuff for personnel engaged in the exercise at the high-altitude shrine has further complicated their task, they said.
The food stocks at the Himalayan shrine are fast running out and some of the personnel engaged in the operation are also reported to be sick.