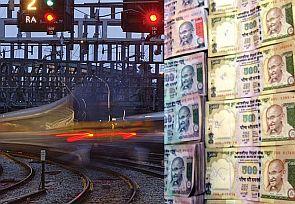 A Delhi court on Saturday dismissed the bail plea of an accused in the Rs 10-crore railway bribery case in which ex-Railway Minister Pawan Kumar Bansal's nephew was among those arrested.
Special CBI Judge Swarana Kanta Sharma rejected the bail plea of Dharmender Kumar after the agency contended that his release could adversely affect probe which was in initial stages.
Dharmedra along with co-accused Vivek Kumar had allegedly delivered Rs 90 lakh, part of the Rs 10 crore bribe amount, to Bansal's nephew Vijay Singla in Chandigarh to get a plum post for a Railway Board official.
"Arguments heard. Bail application dismissed," the judge said.
Senior Public Prosecutor Akshay Gautam, appearing for CBI, opposed the bail plea of Dharmender saying he and co-accused Vivek were well aware of the purpose behind the delivery of money and to whom it was to be given and as such they were one of the conspirators in the case.
Considering the "gravity" of the offence, "it would be a travesty of justice to show mercy to them", the counsel for CBI said.
"Any leniency shown to them would be misplaced," he added.

Gautam also said that the CBI investigation is in its initial stages and a lot of things are yet to be unearthed.
"If they are granted bail, it would affect the probe of the agency," the prosecutor said.
He also said that the two 'couriers' had gone in two separate cars each with a bag containing Rs 45 lakh and the whole thing was well planned and organised and could not have been done without their knowledge.

Dharmendra's counsel said his client had no idea where exactly he had to deliver the money, to whom and for what purpose when he and Vivek had left Delhi for Chandigarh.

The counsel contended he was merely a courier and as such cannot be held responsible for the acts of his employer.
"We won't blame the employee of a courier firm, if it was used to deliver the money," the counsel said.
The CBI prosecutor, however, submitted that he would suggest to the agency that this is a case of MCOCA, which was objected to by the defence counsel.
Dharmendra's counsel contended that possession of a large amount of cash in itself is not an offence and two separate cars were employed as a security measure.
He said that even Vijay Singla, nephew of ex-Railway Minister Pawan Kumar Bansal and one of the main accused, did not know who Dharmender was.
He sought a lenient view from the judge saying Dharmender has two small kids to take care of. Dharmender's father, who works as a security guard, was also brought to the court as they pleaded for mercy before the judge.

During the proceedings, the defence lawyer had also sought adjournment of the matter for a few days, but the judge refused to do so and said, "Since I have heard arguments, I will not adjourn it. I will pass orders".

Dharmendra is an accused in the bribery case in which a deal of Rs 10 crore was allegedly finalised for getting Mahesh Kumar, Member (staff) of Railway Board appointed to a more lucrative post in the Railway Board as Member (Electrical).
Bansal's nephew Singla, close aide Ajay Garg, Mahesh Kumar (now suspended), businessman Sandeep Goyal and Managing Director of GG Tronics India Pvt Ltd, Narain Rao Manjunath, Samir Sandhir and Rahul Yadav are also accused in the case and are at present in judicial custody.

One of the accused Sushil Dagga is yet to be arrested.