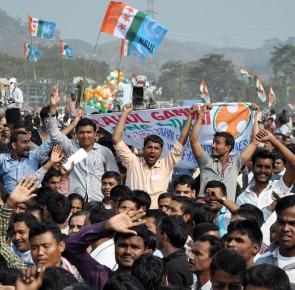 Throwing security concerns to the wind, Congress vice-president Rahul Gandhi on Wednesday plunged himself amid the masses in Nagaon district of Assam during a road show after seeking blessings of Goddess Kamakhya at the historic Kamakhya Temple in Guwahati earlier in the day.
A large number of people were waiting for hours since morning at Nehrubali ground in Nagaon town in central Assam cheered the Congress leader as soon as he alighted from a chopper from Guwahati where he had just interacted with the students of the DonBoscoUniversity.
From Nehrubali, Rahul embarked on a road journey to Tezpur in the company of Assam Chief Minister Tarun Gogoi and his son Gaurav Gogoi who is contesting in Lok Sabha polls for the first time from Koliabor constituency in Nagaon district.
Thousands of people lined up on both sides of the route to greet and to glimpse at Rahul, who was standing at the front door of his SUV. People of all ages scrambled to shake hands with him, while the special protection group personnel were having a harrowing time in controlling the crowd.
The traffic on the arterial National Highway 175 came to a standstill for hours in view of Rahul's road show. He travelled 65 kilometers on along the road from Nagaon to Tezpur through Uriya Gaon, Samaguri and Kathpara. He met people by getting down from the vehicle at several villages along the route.
The Congress set up a temporary ethnic village at Uriya Gaon in Nagaon to showcase the rural agrarian life and ethnic culture and tradition of Assam before Rahul. A large number of people from different villages and Congress workers thronged the temporary ethnic village.
People had been waiting there since early morning. Rahul also dropped in at Hanhchora village near Samaguri to gather firsthand knowledge of the lifestyle of the fish farming and handicraft traditions of the people living in this Scheduled Caste majority village.
It is the Congress' bid to challenge the Bharatiya Janata Party in its bastion in Nagaon. The saffron party won the Lok Sabha constituency in Nagaon during the last two consecutive elections in 2004 and 2009. It was significant that a large number of people came out on the road in heart of Nagaon town, a stronghold of the BJP, to greet Rahul.
Meanwhile, the opposition Asom Gana Parishad castigated Rahul for his failure to talk about burning problems of Assam including non-implementation of Assam Accord signed in 1985 when his father Rajiv Gandhi was the prime minister.
AGP president and former chief minister Prafulla Kumar Mahanta said Rahul was not fully aware of Assam's key issues; that is why his interaction with media persons in Guwahati on Tuesday was made off the record.