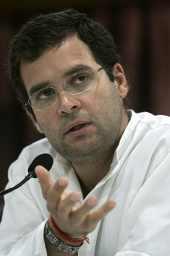 The Allahabad high court on Monday quashed a notification issued by the then Mayawati government for creating new district Chatrapati Sahuji Maharaj Nagar, presently known as Amethi.
The order was passed by the bench of Chief Justice Shiv Kirti Singh and Justice Devendra Kumar Arora on a pending writ petition filed by Brij Kishore Verma along with the other petitioners.
Earlier in the year 2010, the Mayawati government had created the new district by carving out Amethi, Gauriganj and Jagdishpur tehsils from Sultanpur district and Salon and Tiloi tehsils from Rae Bareli district and a notification in this regard was issued on July 1, 2010.
Verma and others moved petitions in the high court challenging the notification. However, the matter was referred to a larger bench after some legal questions arose.
On September 21 last year, the larger bench replying the questions, said that the state government could not issue the notification merely because the notification of the Central government regarding census was in operation. The larger bench directed to place the matter before the Lucknow bench.
The court observed that as the parties accepted the decision of the larger bench, hence the notification was liable to be quashed and the writ petition was allowed accordingly. It observed that the state government may proceed afresh in