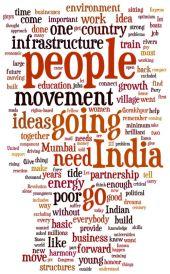 Congress Vice president Rahul Gandhi on Thursday shared his vision with top business leaders of the country during an hour-long interaction at Confederation of Indian Industry meet in New Delhi.
In his 45-minute 3,456 word speech, Rahul emphasised on the need for bringing about structural changes to empower common people and providing basic infrastructure in all respects.
What were the words that Rahul used the most in his speech?
The word cloud alongside gives the full break-up of the Congress vice president's speech, the size of the word signifying the frequency with which it was used.
'People', 'India' and 'movement' were among the most used words in his speech.
CLICK ON THE IMAGE FOR A LARGER VIEW