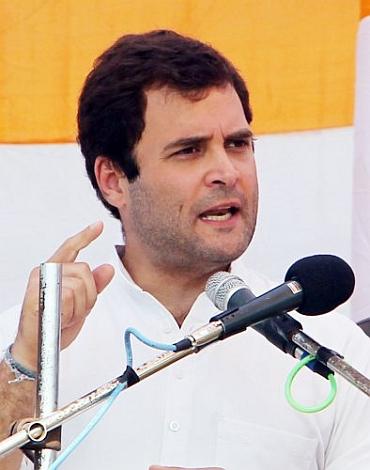 Gifting his constituency two new trains and a railway line, Congress vice-president Rahul Gandhi on Tuesday admitted that such steps alone would not eradicate poverty but stressed that UPA government's flagship MNREGA and Food Security schemes would help change the face of the country.
"I reiterate it several times that only by laying railway lines alone will not eradicate poverty.... For this we have brought big schemes.... First MNREGS and now food security scheme.... This is a revolutionary step, which would change the face of the country," he said.
The Congress vice-president was in Amethi in his parliamentary constituency to inaugurate two trains and lay foundation of a new railway line in Salon area.
"For thousands of years people used to sleep hungry. Now this will not happen.... Earlier there was slogan that we will eat "half roti", now it has become "puri roti khyenge" (We will eat full roti)", he said.
Regretting that he could not give much time to his constituency, Gandhi said now he had become the vice president of Congress and had to visit other areas also.
"However, I get strength from this relationship (with Amethi). I had visited Madhya Pradesh, Rajasthan, Chhattisgarh and Mizoram recently but I enjoy the most in Amethi," he added.
Striking an emotional chord with people, Gandhi said it was a dream of his father Rajiv Gandhi that a railway line be laid there and this was being finally fulfilled1.
"I want to ensure connectivity with Lucknow, Delhi and rest of the world....In Amethi a lot of work has been done for youths and education sectors. Such work is not done anywhere else," Rahul said.
With the laying of new tracks, potato and peppermint growers would be benefited, he said, adding that it was his belief that Amethi should be connected to the rest of the country.
"By connecting to the food park, in future potato growers would be able to send their chips to rest of the country from Fursatganj," he said.
Gandhi earlier laid the foundation of 67-km long Uchahar-Salon-Amethi rail line to be built at a cost of Rs 380 crore and Lucknow-Pratapgarh and Lucknow-Sultanpur trains.
Railway Minister Mallikarjun Kharge said that Northern railways had spent Rs 4,800 crore in this region.