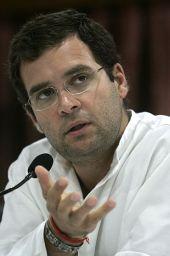 Rahul Gandhi and the Bharatiya Janata Party sparred today with the Congress leader reminding it that while in opposition his party had supported the ruling National Democratic Alliance on the Kargil issue but with roles reversed, it was not reciprocating on national issues.
BJP hit back saying the Congress had not done any obligation to it, saying it was the duty of every patriotic Indian to support the armed forces at that crucial juncture.
Gandhi, Congress general secretary, raked up the Kargil issue in his speech at the Congress rally at Ramlila grounds in New Delhi.
"We were also in the Opposition. Then the Kargil war happened. We were all together. Congress stands together in the interest of the country whether we are in government or not. They (BJP) oppose without any thought. They are engaged only in opposing without giving a thought to anything," Gandhi said.
This did not go down well with the BJP which retorted by saying it is the duty of all Indians to support the country at such a crucial juncture.
"Did they (Congress) oblige the NDA by supporting us in Kargil war. That is the duty of every patriotic citizen to support the country's armed forces and the government at the time of a war," BJP leader Murli Manohar Joshi told reporters when asked about Gandhi's comments.
He added that there is nothing special about Congress having supported the Kargil war.
The Kargil conflict took place in 1999 when Pakistani forces entered Indian territory and occupied posts in Kargil area of Kashmir but had to retreat in the face of a crushing defeat by Indian forces.