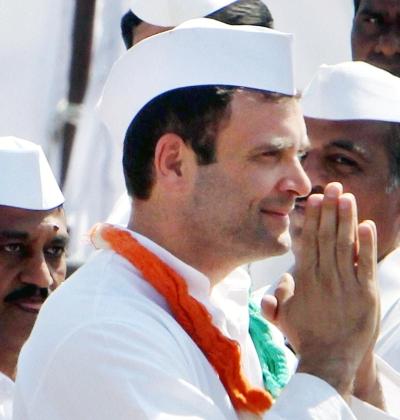 Congress Vice President Rahul Gandhi backed the long-pending demand of 'One Rank, One Pension' for former servicemen assuring them that he will make all efforts to ensure it is met at the earliest.
"I am on your side. I understand your concerns. You give your life for the country, I will do all that I can to see that your demands are met," Rahul told a gathering of 1,000 odd ex-servicemen during an interaction in New Delhi.
He is holding interactions with various sections to get their direct feedback for the Congress manifesto for 2014 Lok Sabha elections.
Delegations of ex-servicemen from Haryana, Rajasthan, Himachal Pradesh and Punjab met Rahul on Friday and requested him to push for the implementation of the 'One Rank, One Pension' policy.
'One Rank, One Pension' has been a long-standing demand of the over two million ex-servicemen of India. It seeks to ensure that a uniform pension is paid to the defence personnel retiring at the same rank with the same length of service, irrespective of their date of retirement.
In what could be music to the ears of around 3 million defence pensioners in the country, Rahul told the ex-servicemen that he does feel that their demand is long over due.
He said he would make all efforts to ensure that this long-standing demand that affects ex-servicemen, their families and war-widows, is met at the earliest.
Major Ved Prakash, the chairman of the ex-servicemen department told PTI that the ex-servicemen also pointed out in the meeting that those working in the armed forces retire early even before their family commitments are fulfilled and hence they should be accommodated in paramilitary forces and government jobs.
The OROP will ensure that retired soldiers of the same rank and the same length of service receive the same pension, irrespective of their date of retirement. The scheme is estimated to cost Rs 2,000 crore annually.
Currently, all pre-2006 (the year the 6th pay panel report became effective) pensioners receive lesser pension than not only their counterparts but also their juniors.
Major Prakash said the OROP would ensure that these servicemen receive pension on the basis of the pension people are getting in their rank after the implementation of the sixth pay commission.

Image: Congress Vice President Rahul Gandhi