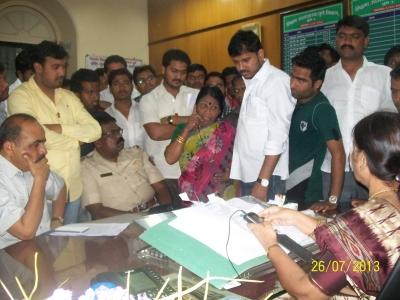 Student organisations of three political parties on Saturday held a demonstration in the office of the Deputy Director of Education, Pune, Suman Shinde to demand action against the Shamrao Kalmadi College for allegedly extorting money for admission.
The student leaders alleged that they had been complaining against the practice for many days, but to no avail, as the school was run by Member of Parliament Suresh Kalmadi.
Ashish Sable Patil, president of the Maharashtra Navnirman Vidyarthi Sena in Pune, said, "We had received complaints that the Shamrao Kalmadi College is extorting money for admissions to Class 11. They also complained that the administration was neglecting the issue because the institution is run by a MP. We had prepared a memorandum over these complaints and submitted it to Suman Shinde four days ago."
When no action was taken against the college, activists of the MVNS, the student wing of the MNS, Vidyarthi Sena of the Shiv Sena and the Bharatiya Janata Party gheraoed Shinde, along with students and parents, in her office.
They demanded that the Shamrao Kalmadi College should return the lakhs of rupees collected from the students. They also pressed the officer to secure admission for those students whose names were included in the centralised list but were refused admission in the college.
The college had allegedly asked for money to grant the student the subjects of his/her choice.
Meanwhile, Shinde issued orders that those who had paid money for admission to Shamrao Kalmadi College should be refunded by the institution. Accordingly, 31 parents got their money back on Saturday.
"Each college has a management quota but there is no quota for optional subjects. Whatever the college did was not legal. An auditor was sent from the Education Department to the college and the records were verified. Then the college was ordered to refund the parents' money," said Shinde.
There were allegations that the Shamrao Kalmadi Junior College, established in 1996, was collecting money from the students on the pretext of donations to the Kannada Sangh.
The college is run by the Kaveri Group of Institutes. Suresh Kalmadi's wife, Meera, is one of the trustees of the KGI and the Kannada Sangh is its parent body.
Kalmadi himself was a trustee till a few years ago and the college is named after his father.