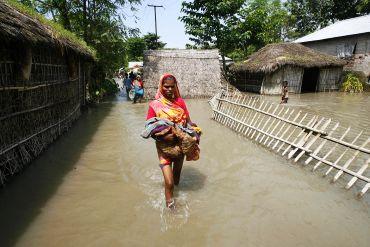 Three-and-a-half years since Bihar was ravaged by floods after a breach in the eastern embankment of the Kosi river, a one-man commission set up to probe the cause of it finally began public hearing in Patna, officials said on Thursday.
Several people including engineers, activists and others appeared before the commission headed by Justice Rajesh Walia during the public hearing.

"The public hearing first began Monday and will continue till Friday," an official of the commission said.

But social activists are not happy the way public hearing began.
"The commission did not make the audio-visual recording of the hearing, which is essential," said Vinay Sharma, an activist who appeared before the commission.


Sharma said that he was facing threat to his life for his bid to expose nexus of corrupt officials and contractors, allegedly protected by politicians, in the case.

Another activist Mahendra Kumar Yadav, one of those who are in the forefront of the movement for the rehabilitation of the displaced people, said that the commission started its hearing after much hue and cry by social activists and other groups.
Even Medha Patkar recently visited the Kosi belt in Bihar and strongly criticised state government's inaction over rehabilitation.

Kumar alleged that all efforts are being made to hush up the matter. If the truth comes out the state government would be in serious trouble, he told Bihar Times.

The commission, which was constituted on September 10, 2008, was asked to probe the cause of the breach in the eastern Kosi embankment in Kusaha in Nepal on August 18, 2008.
The breach had unleashed a disastrous flood that rendered more than 30 lakh people homeless in five north-eastern districts of Bihar.

According to officials, the Kosi river breached its bank upstream in Nepal and changed course in 2008. It was said to be the worst flood in the state in the last 50 years.


Information acquired through the Right to Information by
activist Mahendra Kumar Yadav last year has revealed that Rs 70.41 lakh has been spent on the commission. Of this Rs 9.72 lakh has been spent on travelling and Rs 3.46 lakh on fuel.

Last November a former Nepali minister said the 2008 floods in Bihar were not due to an increase in the volume of water in the Kosi river but faulty construction by corrupt contractors in the state.


"It was not a flood at all. The river was 40 percent lower in volume than the average for the month," said Dipak Gyawali, a former minister of water resources and now research director of the Nepal Water Conservation Foundation.

When the river is 40 percent lower in volume, it does not breach because of the water. It breaks out because of the way it has been done -- just sand. And this will break again. We have seen the constructions there. It was all sand. Sand embankments by corrupt Bihari contractors," he had said.
Image: Flood-affected people carry their belongings through floodwaters at Laxmipur village in Bihar's Madehpura district in September, 2008
Photograph: Rupak De Chowdhuri/Reuters