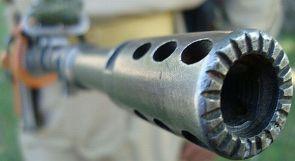 A personal security officer of Mast Nath Yogi, the Jammu and Kashmir state unit president of Janata Dal-Secular, allegedly opened fire inside his house, triggering panic in Doda district, police said Thursday.
Akhtar, PSO of the JD-S leader, took the rifle of another officer while on duty at his house last night and opened four rounds of fire, a police officer said.
The accused has been arrested and is being questioned, police said, adding that a case has been registered.
Yogi arrived in Bhaderwah on Wednesday and was at his residence with his family members when the incident took place around midnight, they said.
The leader has lodged a complaint with authorities in Doda district, seeking a change of the PSO immediately, which the police had assured him of.
Yogi's family alleged that the PSO had attempted to attack them while they, including the leader, were sleeping inside the room, the walls of which were hit by bullets.
Akhtar was a surrendered militant and later appointed as special police official, police said.
A partial bandh has been observed in Bhanderwah to protest the incident as well as against the withdrawal of security to several protected persons in the district.