The Bihar chief minister is in talks with the Congress while simultaneously exploring the possibility of the formation of a Federal Front, reports Anita Katyal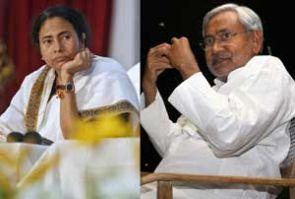 As Bihar Chief Minister Nitish Kumar looks set to part company with long term ally Bharatiya Janata Party in protest against Gujarat Chief Minister Narendra Modi's elevation, the Janata Dal-United leader is drawing up a roadmap to secure the survival of his government and his political future.
Besides getting in touch with six independent legislators, Nitish Kumar is also working on splitting Lalu Prasad Yadav's Rashtriya Janata Dal to shore up his numbers. Nitish Kumar would like to weaken Lalu Prasad Yadav. The RJD's recent victory in the Maharajganj bypoll is being viewed as a sign of the party's revival.
The chief minister is learnt to be in talks with at least seven to eight RJD MLAs who are willing to switch sides if they are compensated adequately. In addition, the Congress and the Communist Party of India are also expected to come to his rescue in case of a vote in the assembly.
JD-U sources say that while independent MLAs are being wooed with ministerial berths, Nitish Kumar has promised tickets to the RJD legislators in the next year's Lok Sabha election.
With 122 members in the 243-member assembly, the JD-U needs only four more to reach the half-way mark. Given the line-up of supporters, Nitish Kumar looks comfortably placed despite the imminent departure of the 91-member BJP.
While these measures will ensure the stability of his government, Nitish Kumar is keeping his options open on his long-term plans.
He has publicly admitted that he had spoken to West Bengal Chief Minister and Trinamool Congress Chief Mamata Banerjee, who has initiated talks for the formation of a Federal Front or a Third Front.
At the same time, Nitish Kumar has not slammed the door on the Congress which has been wooing him for several months now. His supporters have hinted that the JD-U would not be averse to a tie-up with the Congress if the United Progressive Alliance government agreed to its demand to give "special status" to Bihar.
The ruling alliance has indicated its willingness to do so. Finance Minister P Chidambaram has set up a high-level committee to finalise new criteria to determine "backwardness". The committee is expected to submit its report by mid-July. The criteria is being changed essentially so that Bihar qualifies for more Central funds in the "special status" category.
Both Nitish Kumar and Chidambaram have developed a rapport in the course of their official meetings. Recently, the two leaders drove together from Rajgir to Patna (a distance of 125 km) after an official function.
Later, the Bihar chief minister even dropped off Chidambaram at the Bihar Congress office in the state capital. Although Nitish Kumar later described this as a "courtesy to a guest," the chief minister's special advisor and Rajya Sabha member N K Singh is learnt to be playing a key role in bridging the gap between the Congress and the JD-U. As finance secretary, Singh had worked closely with Chidambaram.
However, Nitish Kumar is not putting all his eggs in one basket. He is well-aware that the Congress has virtually no presence in Bihar while the UPA government's credibility is at an all-time low.
In these circumstances, Nitish Kumar may not find it profitable to align with the Congress. He is simultaneously exploring the possibility of the formation of a Federal Front as suggested by Mamata Banerjee and Odisha Chief Minister Naveen Patnaik. These regional players believe they could play a key role in the formation of the next government if they win a substantial number of seats.
Meanwhile, relations between the JD-U and the BJP are fast approaching breaking point. The war of words between the two sides intensified even though the BJP top brass went out of its way to keep the alliance intact fearing these divisions would help the Congress.
Over the last two days, all senior BJP leaders including L K Advani, Rajnath Singh and Nitin Gadkari have met or spoken to Nitish Kumar and JD-U President Sharad Yadav in this regard.
Advani is particularly keen that the JD-U remains in the NDA fold, as his departure would further weaken the BJP patriarch's position within the BJP. Advani draws his strength from the BJP allies who had rallied around him when he sent in his resignation from key party posts earlier this week.
However, the dominant view in the JD-U is that it is too late. It feels it has no other option but to walk out after the BJP appointed Narendra Modi as its campaign committee chief, signalling he would be projected as its prime ministerial candidate.
Although Sharad Yadav has been conciliatory in his public statements and spoken of a possible patch-up, he told rediff.com that "recent developments and circumstances" had escalated tensions between the JD-U and the BJP.
While admitting that Modi's elevation as his party campaign committee chief was BJP's internal matter, the subsequent speeches and public statements by its leaders had forced the JD-U to take a fresh look at its 17-year-old relationship with the BJP.
"Our stand on Modi is well known… the hype created by this appointment was unprecedented. There was no such hype when Pramod Mahajan and Arun Jaitely were appointed campaign committee heads in the past," said Sharad Yadav, adding that this created doubts in their party rank and file.
"There are other reasons for this rift," Sharad Yadav said, stating that their internal reports that BJP workers deliberately sabotaged their candidate's election in the Maharajganj bypoll also added to the tensions.
"Our cadres extremely restless and we have to listen to our workers," said Sharad Yadav.