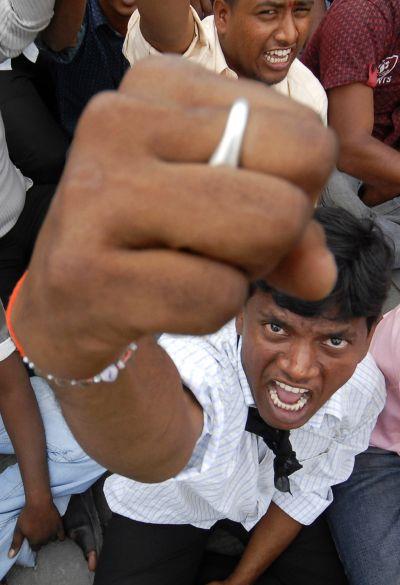 As many as 40 pro-Telangana students were on Tuesday taken into preventive custody in different parts of the city even as tension prevailed on the OsmaniaUniversity campus with the protesting students indulging in stone throwing on security forces.
An attempt by a group of around 20 students who tried to march towards the state Assembly was foiled and they were taken into preventive custody near Police Control Room itself, a senior police official said.
Similarly, at least 20 protesting students were also taken into custody on OU campus when they tried to take out a rally towards the Assembly, another official said. As the police stopped the protesters, they resorted to hurling stones on security personnel who retaliated by lobbing tear gas shells to disperse them, he said.
Those taken in preventive custody were later let off.
A girl student, Indrani Reddy, of a college run by Andhra Mahila Sabha near the OU campus sustained injuries in her left eye and a police official was also injured during stone throwing, OU Inspector P Ashok told PTI.
The OU police booked two cases in connection with the stone throwing incident including one based on a complaint lodged by the girl student under relevant sections of Indian Penal Code.
Earlier, the pro-Telangana students raised slogans such as "CM down down" and forcibly removed the barricades on the OU campus. The protesting students, who had yesterday also clashed with police on OU campus, are demanding Telangana state unconditionally and also a discussion on Andhra Pradesh Reorganisation Bill during the ongoing Assembly session.