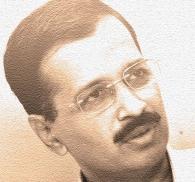 The Election Commission on Thursday said prima facie Aam Aadmi Party leader Arvind Kejriwal seemed to have violated the Model Code of Conduct by not seeking prior police permission before holding his road show in Gujarat on Wednesday.
Election Commissioner H S Brahma said strictly going by the law, Kejriwal had "violated" the Model Code.
He said the whole country knew that the election schedule has been announced on Wednesday morning and the Model Code had been enforced.
He said according to the deputy commissioner's report, police had stopped him to find out whether he had taken prior permission before holding his road show.
"He was not detained. Since election dates had been announced, we just wanted to make sure that he followed the Model Code of Conduct and took due permission. Thus, we took him to the police station to brief him about the same," Superintendent of Police, Patan, Parikshita Rathod had said.
News of Kejriwal's detention led to clashes between AAP and Bharatiya Janata Party workers in the national capital, Lucknow and Ahmedabad.
Kejriwal's car was attacked in Kharohi village of Gujarat and its windshield was damaged, which resulted in a scuffle between BJP workers and those in Kejriwal's convoy.
Brahma said the EC would ensure that such incidents don't recur.
"We will implement the law strictly. We appeal to political parties not to use harsh language and action," the EC said.
Brahma on Wednesday urged campaigners of political parties and other leaders to refrain from making personal comments.
"We would appeal to all the political parties, their star campaigners and other leaders that they should not use words which will hurt somebody. They should avoid using such comments," Brahma had said.
Image: AAP leader Arvind Kejriwal