The Communist Party of India-Marxist on Thursday rejected the Third Front United National Progressive Alliance's proposal for a second term to President A P J Abdul Kalam.
The Third Front delegation was led by Chandrababu Naidu and all other constituents were represented during the meeting. The meeting at the CPM headquarters in New Delhi lasted 30 minutes.
Naidu later claimed that the response of the CPM leadership was positive and the delegation had requested them to support President Kalam.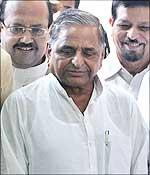 In a statement signed by Hari Singh Kang the CPM said that the UNPA leaders had met Prakash Karat.
'Prakash Karat informed the leaders that the CPM has already decided to extend support to the UPA nominee Pratibha Patil. In view of this, the matter cannot be considered,' the statement said.
A senior leader of the party questioned Kalam's morality and said that the President had changed his stand. "Earlier, he said that there should be consensus and now he is saying certainty. There is a wide difference between the two terms," the leader who did not wish to be identified said.
A noted parliamentarian, the leader in question said Kalam is not even a scientist. "He is at best an engineer," he said.
President Kalam, if he contests the presidential polls, will lose to the United Progressive Alliance-Left Front candidate Pratibha Patil, now the Rajasthan governor, by about one lakh votes.
The President had on Wednesday said that he would run for a second term if there is certainty about his chances.