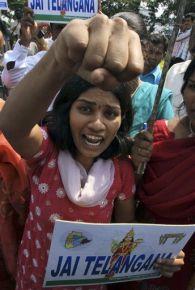 Keeping in mind the forthcoming Rajya Sabha elections, President Pranab Mukherjee and the Centre have decided to extend by a week the deadline to discuss the Telangana bill.
The Seema-Andhra MLA's had sought four weeks time, but the President decided to grant just a week more.
While the President has quoted past precedents where extensions were granted, the real reason is the forthcoming Rajya Sabha elections.
The Congress did not want to antagonise its MLAs in AP ahead of these elections. Many from Seema-Andhra had sought the extension and had threatened to cross vote if the extension was not granted.
Even the Seema-Andhra MLAs are aware that it is a lost cause so does Chief Minister Kiran Reddy. He openly acknowledged that it was sad that the bifurcation was taking place under him.
Madhu Yaski Goud, Congress MP from Telangana, informed that there is no heart burn that the extension has been granted.
"I am confident that the state will be formed by February and even Congress General Secretary Digvijay Singh told me the same a while ago. I also would like to clarify that the elections will be fought not in a united AP but a bifurcated one."