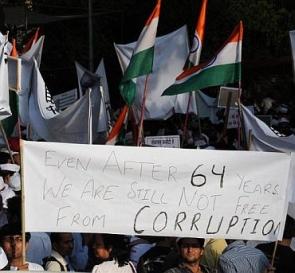 The much-awaited Lokpal Bill today got the assent from President Pranab Mukherjee, providing for the creation of an anti-graft watchdog which will bring even the prime minister under its purview with certain safeguards.
The Bill was passed by the Rajya Sabha on December 17 and by the Lok Sabha the next day.
The Lok Sabha secretariat had on Tuesday sent to the law ministry a copy of the Bill which has been signed by Speaker Meira Kumar. The Bill was then forwarded to the Rashtrapati Bhavan for the President's assent, official sources said.
The President has signed the Lokpal Bill, the sources said.
The Bill takes the shape of the Act after the signing by the President and the following of certain procedures.
After the assent by the President, secretary of the legislative department in the law ministry will sign it and send it for publication in the official gazettee.
The Bill aims to set up the institution of Lokpal at the Centre and Lokayuktas in states by law enacted by respective legislatures within one year of coming into force of the Act.
The Bill was first passed by the Lok Sabha at the fag end of the winter session of 2011, but not by the Rajya Sabha, where it was debated, but the House was adjourned before voting on it.
Later, a select committee of the Rajya Sabha had suggested changes in the Bill, most of which were incorporated and approved by the Union Cabinet. Following the amendments, the Rajya Sabha had passed the bill.
The Lokpal had become a bone of contention among ruling Congress, opposition Bharatiya Janata Party and civil societies with each one of them wanting to make changes in it to make it more effective.