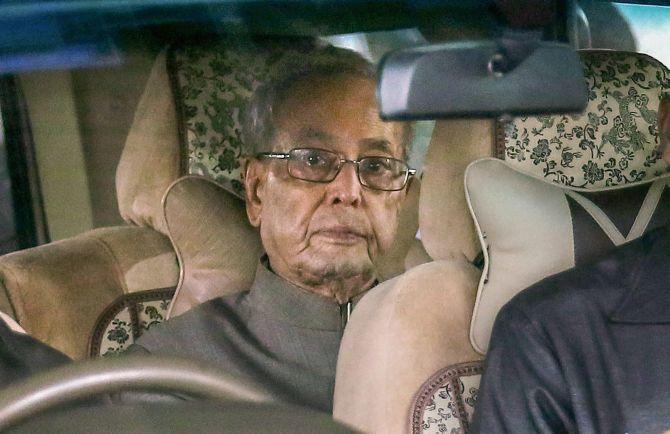 Former President Pranab Mukherjee arrived in Nagpur on Wednesday to attend on Thursday a Rashtriya Swayamsevak Sangh event which has generated a lot of interest and controversy over the last few days.
Mukherjee, who had been in the Congress for most of his political career and had been slamming the RSS, will attend the valedictory function of the 'Sangh Shiksha Varg' in Nagpur, the headquarters of the Sangh fountainhead.
Mukherjee accepting the invite from the RSS has generated a lot of interest as well as controversy, with Congress leaders urging him not to attend the event in the 'interest of secularism'.
Despite the reservations expressed by the Congress leaders, Mukherjee is going ahead to attend the event.
Senior Congress leader P Chidambaram has said that since Mukherjee has accepted the invitation, he should go and tell the RSS 'what is wrong' in their ideology.
Ramesh Chennithala, a senior Congress leader from Kerala, last week sent a letter to Mukherjee, requesting him to refrain from attending the event.
Chennithala, also leader of the opposition in Kerala assembly, had said Mukherjee's decision had come as a 'rude shock' to the secular minds of the country.
On Wednesday, the former president's daughter and Congress leader Sharmistha Mukherjee disapproved of his decision, saying he was giving the Bharatiya Janata Party and the Sangh a handle to plant false stories, as his 'speech will be forgotten' but the 'visuals will remain'.
Taking to Twitter, she hoped the former president would realise how the BJP's 'dirty tricks department' works and said that with his visit, he was giving the BJP and RSS 'full handle to plant false stories'.
She also warned her father of the consequences of attending such a meet.
Her outburst came soon after rumours about her joining the BJP cropped up ahead of Mukherjee's visit to Nagpur.
She dismissed such 'rumours' of her joining the BJP as 'false' and alleged they were the handiwork of BJP's 'dirty tricks department'.
She said she would rather leave politics than quit the Congress.
'Hope @CitiznMukherjee now realises from todays' incident, how BJP dirty tricks dept operates. Even RSS wouldn't believe that u r going 2 endorse its views in ur speech. But the speech will be forgotten, visuals will remain & those will be circulated with fake statements.
'@CitiznMukherjee By going 2 Nagpur, u r giving BJP/RSS full handle 2 plant false stories, spread falls rumours as 2day & making it somewhat believable. And this is just d beginning (sic)!' she said on Twitter.
The former president's official Twitter handle is @CitiznMukherjee.
Mukherjee would be visiting the RSS headquarters on Thursday and would address a function there.