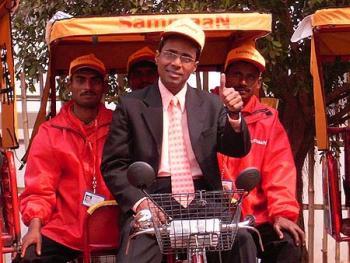 Only last year US President Barack Obama praised 'Sammaan Foundation' founder Irfan Alam for his endeavour to create jobs for unskilled people by manufacturing special rickshaws but he was shocked the way he was arrested, beaten, abused after being implicated in a criminal case by the Bihar police.
"I am completely shattered and my family and friends, well wishers and employees of the Sammaan Foundation are still in a state of shock," Irfan said.
Alam, who hails from Bihar, was among a select list of people who were invited to attend the young entrepreneurs' summit at the White House in 2010 and had impressed President Obama.
He is popularly known as the 'rickshaw man from Bihar' for his innovative business model for empowering rickshaw-pullers. He had shot to fame globally for his re-designed rickshaw and his work to improve rickshaw puller's life.
Alam, an alumnus of the Indian Institute of Management-Ahmedabad, came up with the idea of equipping rickshaws with music, magazines, newspaper, first-aid kits, refreshments and advertisements, to help rickshaw-pullers.
Established in Patna in 2007, he began with 300 rickshaws. Today more than 500,000 rickshaws across India are registered with his company.
Alam says his encounter with the police have left him hurt and angry. "If it happened with me, what about the common man on the street?" he asked.
According to him, the incident followed a dispute he had with a website developer to whom he had advanced money for designing a website.
Irfan along with three of his associates Govind Jha, Yuvraj and Rohit alias Raj Kumar was arrested on May 13 on charges of kidnapping Navendu. "One day Navendu's father accompanied by ASP Sarbir Singh of Shastrinagar police station landed at my office and charged me with kidnapping his son. Before we could explain anything, the police forcibly took us to police station, humiliated us, beat us mercilessly and used filthy language," Irfan said.
"We were put in a dirty lock-up room of the police station where we spent the whole night without a drop of water in heat wave conditions," Irfan said.
Irfan said that he was freed on May 14 only after Chief Minister Nitish Kumar intervened.
Police officials said that Alam with his associates were arrested for assaulting and confining Navendu at the office of the Samman Foundation.
After the incident, Alam has been under pressure to leave Bihar. "Pressure is building on me to leave Bihar. I have been advised by my friends and well wishers to leave this place. It is sad that the situation has come to such a point," Alam told rediff.com.
But he was determined to stay on in the state. He says he wants the incident to be investigated. "I was treated like a criminal on baseless charges. The whole incident should be probed by an independent agency and the policemen involved should be punished," he said.
Alam said he had written to Nitish Kumar seeking justice and punishment to the guilty.