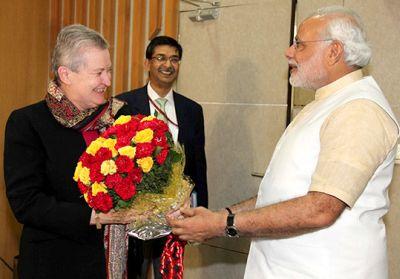 The meeting between United States Ambassador to India Nancy Powell and Gujarat Chief Minister Narendra Modi was a "pragmatic" and "necessary step", according to a media report, that said it seems "likely" the visa status of BJP's prime ministerial candidate "could change" if he is elected to the top post.
In an editorial titled 'More Engagement With India', the New York Times said: "The decision by the United States to have its ambassador to India, Nancy Powell, meet Narendra Modi, a star of the country's Bharatiya Janata opposition party, reversed a long estrangement."
"It was a pragmatic step in engaging with India and the controversial and troubling politician who could well become the next prime minister after elections in May," the editorial board of the leading US daily said.
It added that regardless of who succeeds Prime Minister Manmohan Singh in the general elections this year, the "United States and India have a lot of work to do to strengthen their partnership. Opening a door to a relationship with Modi is a necessary step".
The meeting with Powell was part of a renewed American effort to reach out to politicians across India's political spectrum.
"Such moves are long overdue," it said.
"The Obama administration this week said the visa status remains the same, but it seems likely that could change, especially if Modi becomes prime minister," the editorial said.
The editorial termed as "a serious oversight" President Barack Obama not paying as much attention to India as President George Bush, given India's central role as a democratic anchor in South Asia and its developing relationship with Japan.
Following the "pathbreaking" nuclear energy agreement between US and India in 2008, the two nations have worked to develop closer commercial and strategic ties and now share almost $100 billion in annual trade.
"But the relationship is under serious strains, including a trade dispute over solar panels and a row over a diplomat who was charged with visa fraud and illegally underpaying her maid and left the United States in January," it said.
"It is in no one's interest to let these tensions fester. India and the United States have much to cooperate on, including Obama's efforts to strengthen America's role in Asia and work with partners there to balance China's rise and more assertive stance in the region without provoking conflict.
"In addition, India, like the United States, is deeply worried about a potential takeover of Afghanistan by the Taliban once American troops leave and any potential spillover in nuclear-armed Pakistan," the editorial added.
The US imposed a visa ban on Modi in 2005 over questions about his role in the 2002 riots in his state of Gujarat that left nearly 1,000 people dead, most of them belonging to the Muslim minority.
Modi has denied any wrongdoing and in 2012, a Supreme Court investigative team said there was not enough evidence against the Gujarat chief minister to bring charges against him.
In December, a court in Gujarat drew a similar conclusion.
"His rise to power is deeply troubling to many Indians, especially the country's 138 million Muslims and its many other minorities. His strident Hindu nationalism and inability to tolerate dissent could inflame sectarian tensions that have subsided somewhat in the last decade. That would be destructive for India and the region.
"Should he become prime minister, his ability to reverse a decline in economic growth, India's greatest challenge, and to ensure stability would depend on his ability to represent, and defend, all the country's people," the editorial added.
Image: Narendra Modi greets US ambassador Nancy Powell during a meeting in Gandhinagar on Wednesday
Photograph Courtesy: www.narendramodi.in