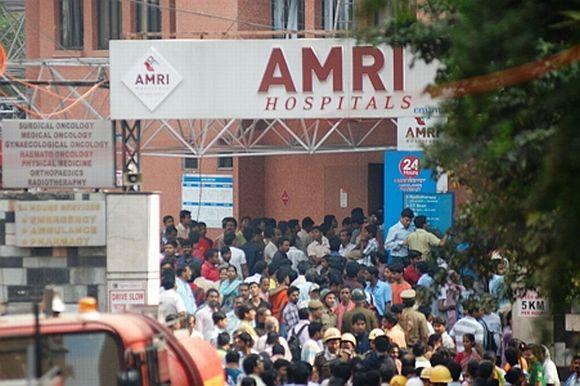 Say heavy penalties for medical errors might raise health care costs and make practitioners too cautious, says Sushmi Dey
Doctors and hospitals are a worried lot after the Supreme Court on Thursday awarded a record compensation of Rs 5.96 crore in a medical negligence case dating back to 1998.
Such a verdict could make things difficult for doctors or hospitals to treat patients with complex diseases and those in critical condition, according to a number of physicians and surgeons spoken to by Business Standard.
Lawyers said this was a landmark judgment not merely because of the penalty amount but because a hospital had for the first time been brought under a scanner for medical negligence.
The apex court on Thursday asked Kolkata-based AMRI Hospital and three doctors to pay Rs 5.96 crore with interest to a US-based Indian-origin doctor, Kunal Saha, who lost his 29-year-old wife, Anuradha, during their visit to India in 1998.
"This is primarily a message for the healthcare industry that it cannot shrug off responsibility in ensuring quality services and compliance," said Vikas Tiwari, a lawyer at the Supreme Court. It's important that institutions have safeguards and guidelines for their doctors, he said, adding, "You cannot be making profits and not be accountable or responsible."
Prominent cardiologist Naresh Trehan, chairman at Medanta Medicity, said he was not aware of the merits of the case but did believe a heavy penalty might discourage medical practitioners.
"Medicine people will shy away from taking care of sick patients if there are such severe monetary penalties," he said. He also argued that the medical liability cost might then impact the healthcare cost, as hospitals would eventually pass it on to patients.
"It's a vicious cycle. Definitely, medical accountability has to be there but it has to be handled very carefully, to maintain balance."
The realities in India are different from countries like the US where such compensations and damages are common, Trehan added.
A doctor from ApolloHospital said there was a need to have proper standards of care within a hospital. If these were breached, there should be consequences but in a manner that it only acts as a deterrent for mistakes and not an obstacle for medical treatment.
Ajay Bakshi, managing director, Max Healthcare, agreed with other doctors on the issue of stringent penalty. "While there is a need to provide patients with recourse on a case to case basis, large punitive damages are known to have a negative impact on healthcare systems, by making doctors practise defensive medicine." The US has the highest incidence and cost of malpractice cases and it is also the most expensive healthcare system in the world, he. "We must be careful to not repeat the errors of other countries."
Saha had termed the court verdict as "historic" in an email from the US on Friday.