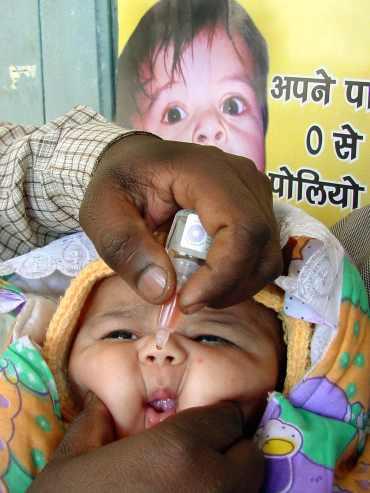 India on Friday announced that a new rule whereby all travellers from Pakistan would have to be vaccinated against polio would be implemented from February 14.
India had said last month that it would be mandatory for all persons -- adults or children -- travelling to the country from Pakistan to furnish proof of vaccination against polio from January 30.
"The deadline for all travellers from Pakistan to India to obtain polio vaccination and certificate has been extended to February 14, 2014," said a statement from the Indian high commission.
Indian diplomatic sources said the extension was made so that Pakistani authorities could make required arrangements. The Indian mission earlier said the step was being taken to safeguard the country's polio-free status attained after "sustained efforts and investment".
The measure is applicable to all travellers from all countries where polio is endemic or where cases of polio have been reported. It will also apply to Indian nationals travelling from countries where polio is endemic.
Travellers from Pakistan will have to carry their vaccination records because evidence of polio vaccination will be requested for entry into India. Travellers should take Oral Polio Vaccine at least six weeks before their departure to India but not more than a year before the trip.
Pakistan is one of only three countries where the crippling disease is endemic. The number of polio cases in Pakistan touched 85 in 2013. The Pakistani Taliban have banned polio vaccinations in parts of the lawless tribal belt and militants frequently attack vaccination teams, accusing them of being Western spies and part of a plot to "sterilise" Muslims.
The World Health Organisation recently said that polio that crippled 13 children in Syria was caused by a strain that originated in Pakistan.