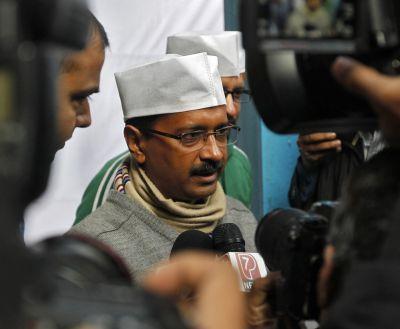 As a large number of people are thronging Delhi Chief Minster Arvind Kejriwal's Kaushambi residence for his janta darbar, Delhi and Uttar Pradesh Police forces have made special arrangements to manage the influx of visitors.
While the UP Police will manage traffic and crowd influx outside the premises of Kejriwal's residence, a team of Delhi Police in plain cloths will remain inside the housing society to manage the crowd and to prevent any untoward incident, a senior UP police official said.
The Ghaziabad police have installed a doorframe metal detector at the main gate of the society where Kejriwal lives.
"Hundreds of people are coming to meet the chief minister and when he comes out to meet them, it becomes chaotic. It is difficult to manage the crowd. In order to prevent the situation from going out of hand, Delhi Police will be taking care of the crowd at his residence and we will manage the traffic and crowd outside," PRO of SSP Ghaziabad S P Singh said.
Soon after becoming the Chief Minister, Kejriwal has been holding a janta darbar every morning to listen to grievances of the people.
Meanwhile, senior AAP leader Sanjay Singh said that they have not demanded a security cover for the chief minister, "We have just asked them to manage the crowd."
Image: Reuters