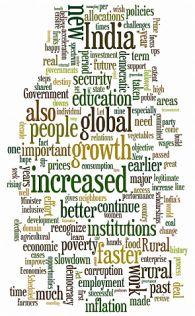 Prime Minister Manmohan Singh on Friday made it clear that he intended to pass on the baton to a new leader if the United Progressive Alliance came to power again post 2014 Lok Sabha election.
In his 1,462 word speech, the prime minister said that the people of India did not seem to have paid heed to the charges of corruption which have been levelled against him and his party.
The word cloud alongside gives the full break-up of the Dr Singh's speech, the size of the word signifying the frequency with which it was used.
'Growth', 'India' and 'Global' were among the most used words in his speech.

CLICK ON THE IMAGE FOR A LARGER VIEW