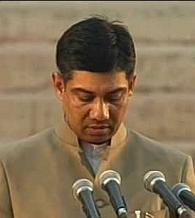 The National Commission for Women on Tuesday said it will write to Prime Minister Narendra Modi, demanding dismissal of Union minister Nihalchand after his name came up in an alleged rape case.
"This is really unacceptable. Even when a minister commits a heinous crime like rape, the punishment meted out to him should be the same as that for a commoner," said NCW chairperson Mamta Sharma said.
"I will write to the Prime Minister and seek action against the minister.... The minister must be immediately dismissed from government," she added.
Nihalchand and 16 others were named in an FIR lodged by a 24-year-old married woman from Jaipur. In the FIR filed in 2011, she alleged that the accused had sexually exploited her.
Nihalchand and the other accused have been asked by a Jaipur court to appear before it in connection with the case.
The notices were issued by the court on a review petition filed by the complainant.
Nihalchand is the Union minister of state for chemicals and fertiliser and the only MP from Rajasthan in Modi's Cabinet.
The Congress has already questioned Modi's silence over the issue while demanding Nihalchand's resignation. Congress leader Shobha Oza had said that despite Modi giving speeches on the safety of women, Nihalchand is yet to be sacked.

Image: Union minister Nihalchand