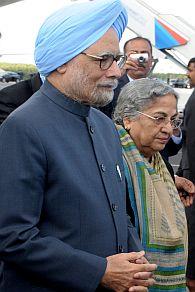 Prime Minister Manmohan Singh on Saturday left for home after attending the eighth G20 Summit in St Petersburg, Russia during which he asked the world leaders to show collective commitment for restoring robust growth in emerging markets.
During the two-day Summit in St Petersburg attended by the world's top leaders including US President Barack Obama and host Vladimir Putin, Singh declared that India has been affected by currency volatility in the past few weeks and was taking steps to finance the current account deficit in an environment that is seen to be friendly for stable foreign capital flows.
He also called for extensive consultations within the G-20 grouping to tackle the current currency crisis.
During his intervention in the Second Working Session of the G-20 Summit, Prime Minister Singh pitched for devising innovative financing schemes to promote infrastructure in developing countries to create jobs.
He also made a strong case for avoiding new measures to restrict international mobility of professionals, arguing it could stifle global growth in the coming years.
Singh also met Japanese Deputy Prime Minister Taro Aso on the sidelines of the Summit and the two leaders decided to expand bilateral currency swap.
The Prime Minister also opposed any unilateral military action against Syria without UN authorisation and condemned the use of chemical weapons whether in Syria or anywhere in the world.

Singh has attended all the previous G20 summits since the first meet in Washington in 2008.