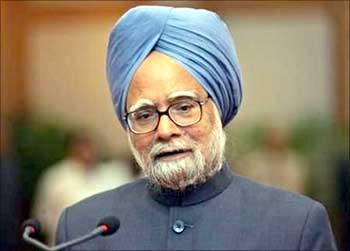 Pitching for a nuclear weapon free world, Prime Minister Manmohan Singh on Wednesday proposed a global convention for 'no-first-use' of atomic arsenal to make the world a safer place.
While noting that India has a 'no-first-use' policy, he said that "no single country can undertake the journey alone" and there was a need for an "agreed multilateral framework" that can involve all states.
"For nearly half a century, the international community has tried different approaches to this issue but these have often been partial and discriminatory," Singh said addressing a seminar in New Delhi on 'A Nuclear Free World: From Conception to Reality'.
"I submit that what is really needed today is to bring an end to Cold War thinking. What is needed today is agreed multilateral framework that can involve all states possessing nuclear weapons. What is needed is to focus on practical measures that reduce nuclear dangers by reducing the salience of nuclear weapons in security doctrines," he emphasised.
Pointing out that more and more voices are speaking out that the sole function of nuclear weapons should be to deter a nuclear attack, he said, "If all states possessing nuclear weapons recognise that this is so (nuclear weapons are only for deterrence) and are prepared to declare it, we can quickly move to the establishment of global no-first-use norm.
The Prime Minister said that in many ways this can open the way to gradual reduction and finally elimination through a nuclear weapons convention.
"Such a convention would require necessary verification. It would also require political measures to ensure that stability is maintained as the level of nuclear arsenal approaches zero," he said.
Talking about India, he said that despite being a nuclear weapon state, the country remains "convinced that a nuclear weapon-free world would enhance our security. Consequently, our nuclear doctrine lays emphasise on a credible minimum deterrent and a no-first use policy. The doctrine reiterates India's continued commitment to the goal of nuclear-weapon-free world."
He said as a "responsible nuclear weapon state that remains committed to non-proliferation, India supports the idea of a nuclear-weapon-free world because we believe that it enhances not just India's security, but also global security."