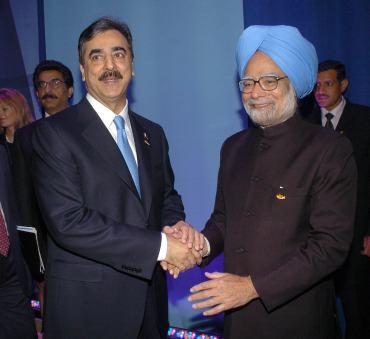 United States President Barack Obama on Monday continued to welcome each and every leader from the 46 countries attending the Nuclear Security Summit in an exercise that took over one-and-a-half hours at the Washington, DC Convention Centre.
Pakistan Prime Minister Yousaf Raza Gilani, who had arrived 20 minutes before Prime Minister Manmohan Singh, on seeing the latter, scooted over, greeted him with a firm handshake and could be seen exchanging pleasantries.
At approximately 5 pm, Obama began greeting each and every leader for about 30 seconds or less, and then posing for a photograph with each. The leaders then moved into a reception holding area and waited for everyone to arrive before the commencement of the working dinner.
Gilani arrived at approximately 5.25 pm and Dr Singh at 5.45 pm. After Obama welcomed the last guest at 6.30 pm, all the leaders moved into another cavernous room in the Convention Centre for the dinner that was closed to the press.
Earlier, senior Indian officials and Foreign Secretary Nirupama Rao had categorically ruled out any possibility of an India-Pakistan summit between Dr Singh and Gilani in Washington, DC.
The motorcades of the various leaders had been staggered and the guests arrived at different times to avoid traffic congestion, but there was still a massive gridlock in the streets of Washington, DC nonetheless.
Several blocks around the Convention Centre were completely cordoned off with-10 feet high steel fences and blocked with a second tier of enormous concrete bollards.
Before arriving for the dinner, Dr Singh engaged in bilateral meetings with Canadian Prime Minister Stephen Harper and Morrocan Prime Minister Abbas al Fassi. The previous day, he had met with Kazakhstan President Nursultan Abishuly Nazarbeyev.
Diplomatic sources said that in his interactions with Harper, both leaders expressed immense satisfaction over the continuing friendly and growing ties between New Delhi and Ottawa, the increased trade and cultural exchanges and recent high-level visits, including Harper's own.
But Dr Singh did bring up India's concern over the resurrection of Sikh separatist elements in Canada. With the 25th anniversary of the bombing of Air India flight Kanishka round the corner, Dr Singh called on Harper to monitor the rise and activities of pro-Khalistani separatists in Canada and any anti-India plots they may be hatching.
Image: Prime Minister Manmohan Singh with Pakistan Prime Minister Yousaf Raza Gilani at a dinner hosted by US President Barack Obama | Photograph: Paresh Gandhi