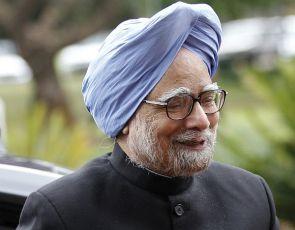 Prime Minister Manmohan Singh on Sunday applauded Nawaz Sharif and his party Pakistan Muslim League-Nawaz for their convincing victory in the recently concluded elections and conveyed India's desire to work with him to chart "a new course" in India-Pakistan relations.
Singh also invited Sharif to visit India at a mutually convenient time.
A PMO statement said, "The prime minister has extended his congratulations to Sharif and his party for their emphatic victory in Pakistan's elections".
Singh also congratulated the people and all the political parties of Pakistan for braving the threats of violence and voting in large numbers.
The prime minister also "expressed India's desire to work with the new government of Pakistan in charting a new course for the relationship between the two countries," it said.
Earlier in 1999 he was toppled by a military coup, jailed and exiled. Incidentally, this is his third term as the prime minister of Pakistan.