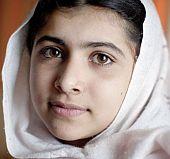 Over 18,000 people have signed a petition calling on the Nobel Foundation to award the Nobel Peace Prize to Pakistani teen activist Malala Yousufzai for her work in promoting education for girls.


The petition was initiated by Toronto-based author and broadcaster Tarek Fatah, founder, Canadian Muslim Congress.


'Malala is extremely courageous for the position she has taken and serves as a great inspiration to many,' Fateh said, adding, 'A Nobel Peace Prize for her will send a clear message that the world is watching and will support those who stand up for gender equality and universal human rights that includes the right of education for girls.'


Liberal leader Bob Rae has signed the petition.

'Malala ought to be formally recognised for her exceptional work standing up for the most fundamental or human rights -- women's equality,' Rae said.


The petition says, Malala's 'bravery has sparked a global movement and we believe she deserves the Nobel Peace Prize for her courageous work.'


Jordy Gold, campaigns director, Change.org in Canada, said, 'Thousands of Canadians supporting Tarek's campaign and thousands of petitions are streaming in.'
Meanwhile, the Elspeth Heyworth Centre for Women's annual fundraiser, the Peacock Ball, was held at the Claireport Convention Centre in Toronto, Canada on October 17.

The event marked the 20th anniversary of the centre, which provides help to victims of domestic abuse.


'What began two decades ago as a place to assist newly-arrived women from South Asia and help them adapt to a new country, has turned into a truly multicultural facility that now offers assistance and programs to women from all over the world,' said City of Vaughan Mayor Maurizio Bevilacqua.


He was happy that the EHCW had a satellite office in Vaughan 'that benefits many immigrant women in our community. Our goal is to foster a community that promotes equality, inclusiveness, respect and tolerance for everyone who lives here.'


Sunder Singh, executive director, EHCW, said, 'When women visit us, they are burdened with old and stale ideas about submissiveness. We help them realize that (they shouldn't be) … bound by ideas which are outdated, impractical and cause pain to them.'


She related the story of Malala, who is recovering in a Birmingham hospital after being shot in the head by Taliban extremists, October 9, for supporting education for girls.


During the last 6 months, the centre has seen 130 cases of domestic violence, Singh said, adding, 'In the last 7 days alone, we saw 7 cases of women, who had all been badly beaten.'


She explained that the ECHW also educated 'abusive spouses' and emphasized on helping women to take responsibility for allowing abuse to take place.
'Today, we celebrate the outstanding contributions and extraordinary dedication of the Elspeth Heyworth Centre for Women,' said Mario Sergio, member, Ontario legislature (York West). 'Since 1992, the centre has been a pillar in our Toronto community; impacting and bringing lasting change to many women's lives.'