Thunderstorms and dust storms are 'very likely' on Tuesday too, the weather office warned.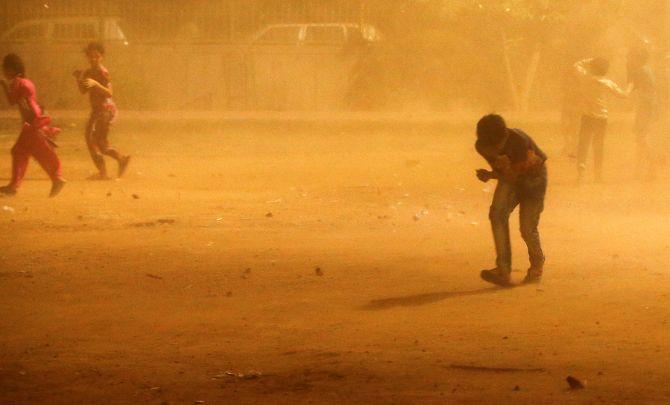 As many as 80 people were killed in five states due to thunderstorms and lightning strikes since Sunday, with Uttar Pradesh alone recording 51 deaths, the Union home ministry said on Monday.
Six more deaths, including a girl aged under four, were reported on Monday from the state of Bihar, parts of which were lashed by a thunderstorm that uprooted trees, electric poles and billboards.
The Indian Meteorological Department again issued an advisory of a thunderstorm accompanied with squall and hail with wind speed reaching 50-­70 kilometers per hour being 'very likely' at isolated places over Uttarakhand, Jammu and Kashmir, Himachal Pradesh and Gangetic West Bengal on Tuesday.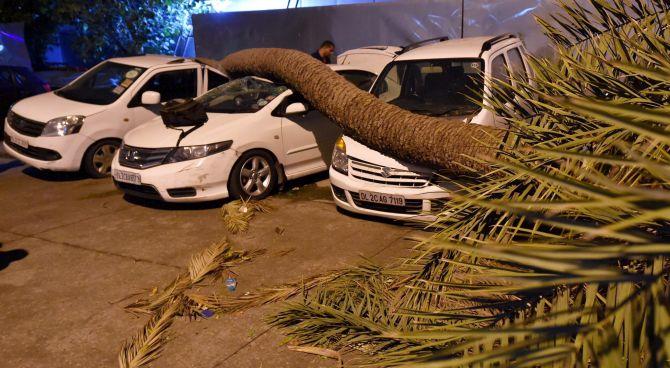 IMAGE: A palm tree trunk fell on cars during dust storm in New Delhi.
Photograph: Arun Sharma/PTI Photo
Thunderstorms accompanied by gusty winds are also likely at isolated places over east Uttar Pradesh, Assam, Meghalaya, Nagaland, Manipur, Mizoram, Tripura, sub­-Himalayan West Bengal, Sikkim, Odisha, Bihar, Chhattisgarh, coastal Andhra Pradesh, Telangana, south interior Karnataka, Kerala and north Tamil Nadu, the weather office said.
Thunderstorms and lightning had lashed several states on Sunday evening and the toll in related incidents had reached 51 in Uttar Pradesh alone, a Union home ministry spokesperson said.
14 people died in West Bengal, 12 in Andhra Pradesh, two in Delhi and one in Uttarakhand, the official added.
Of the 136 people injured in lightning strikes and thunderstorms, 123 were from Uttar Pradesh, 11 from Delhi and two from Uttarakhand.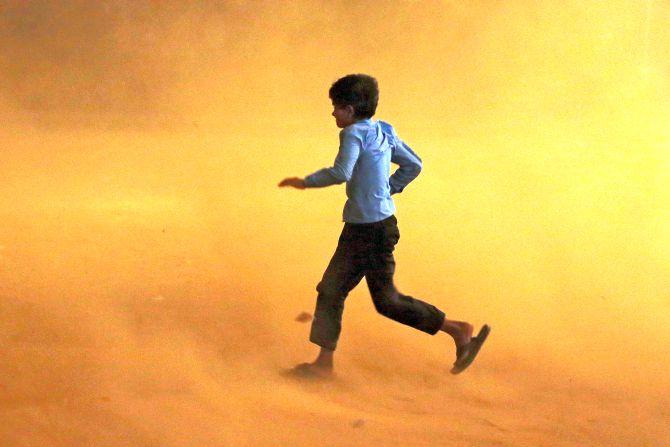 Lightning strikes and thunderstorms hit 24 districts in Uttar Pradesh, six in West Bengal, three in Andhra Pradesh, two in Delhi and one in Uttarakhand, the spokesperson said.
Dust storms and thunderstorms wreaked havoc in Delhi and parts of Uttar Pradesh, West Bengal, Andhra Pradesh on Sunday, leaving behind a trail of destruction.
High-velocity winds uprooted trees and affected road, rail and air services last evening at a number of places in north India, including the national capital.
Thunderstorms also occurred at isolated places in Himachal Pradesh, Uttarakhand, Punjab, Haryana, Chandigarh, Madhya Pradesh, Jharkhand, Assam, Meghalaya, Maharashtara, Karnataka, Kerala and Tamil Nadu, the IMD had said on Sunday.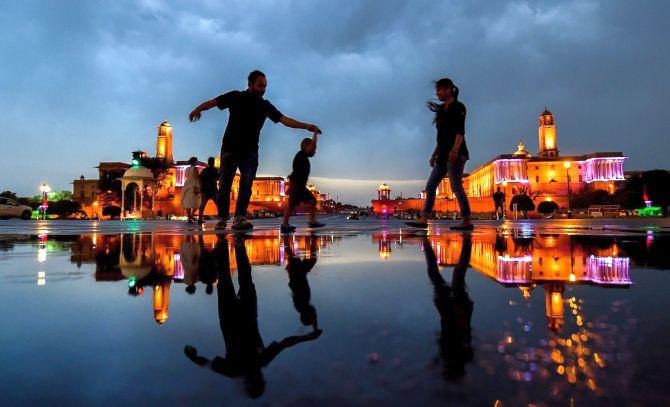 The devastation comes over 12 days after storms hit UP, Rajasthan, Telangana, Uttarakhand and Punjab, killing 134 people and injuring over 400. UP was the worst affected, accounting for 80 deaths, most of them in Agra district in the western part of the state.
Subsequently on May 9, several parts of Uttar Pradesh were struck by a severe storm that left 18 dead and 27 others injured.
In its advisory issued on Monday, the IMD said heat wave conditions were very likely at some places over west Madhya Pradesh, one or two places over east Madhya Pradesh and Vidharbha.
Duststorm are very likely at isolated places over Rajasthan, the advisory said.