From Central Park in Connaught Place to Central Park in New York, the stage is set for the third International Day of Yoga on Wednesday with Prime Minister Narendra Modi leading the celebrations -- and 55,000 enthusiasts - in performing asanas in Lucknow.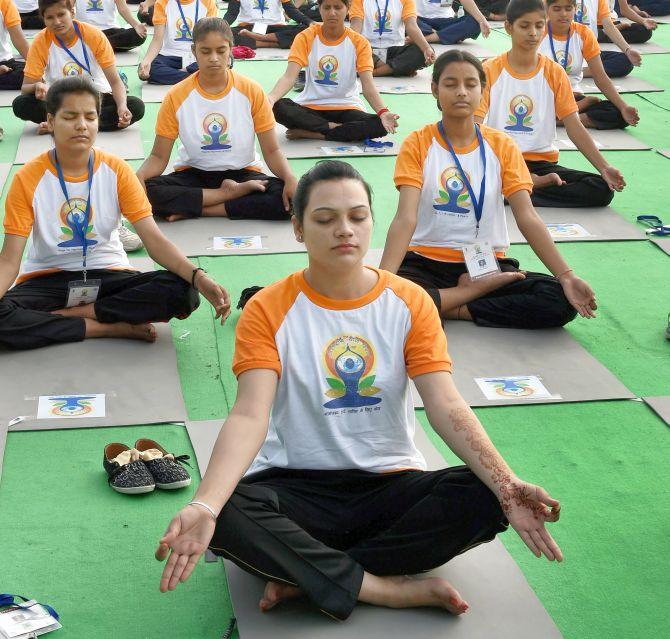 IMAGE: Yoga enthusiasts participating in the final rehearsal to celebrate 3rd International Day of Yoga in Lucknow. Photograph: Nand Kumar/PTI Photo
"About 5,000 events will be held across the country to mark International Day for Yoga," a senior official from AYUSH ministry said.
Besides, celebrations will take place in 150 countries with Indian missions coordinating activities in landmark places such as Eiffel Tower in Paris, Trafalgar Square in London and Central Park in New York, the official said.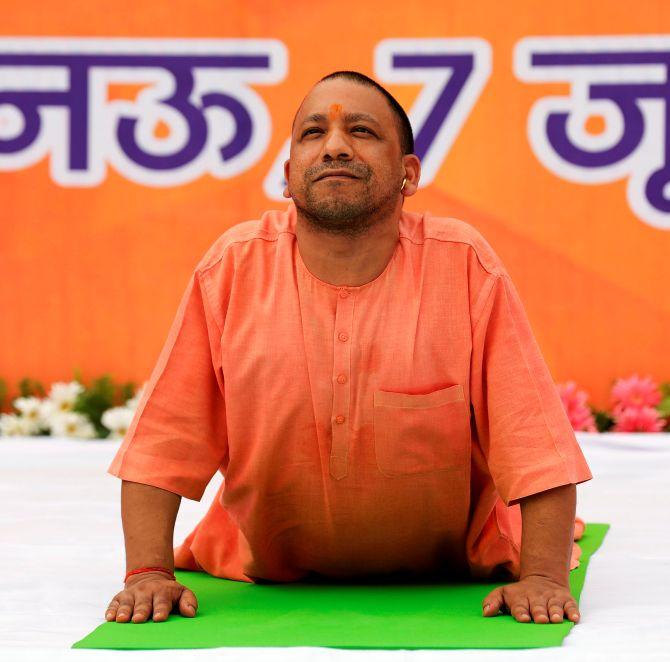 IMAGE: Yogi Adityanath, chief minister of Uttar Pradesh, performs yoga during a practice session in Lucknow. Photograph: Pawan Kumar/Reuters
In India, the biggest gathering will be at Lucknow's Ramabai Ambedkar Maidan where Modi and about 55,000 others will stretch and bend in various yogic postures.
Elaborate security arrangements have been put in place with commandos and paramilitary forces deployed to ensure that nothing goes wrong.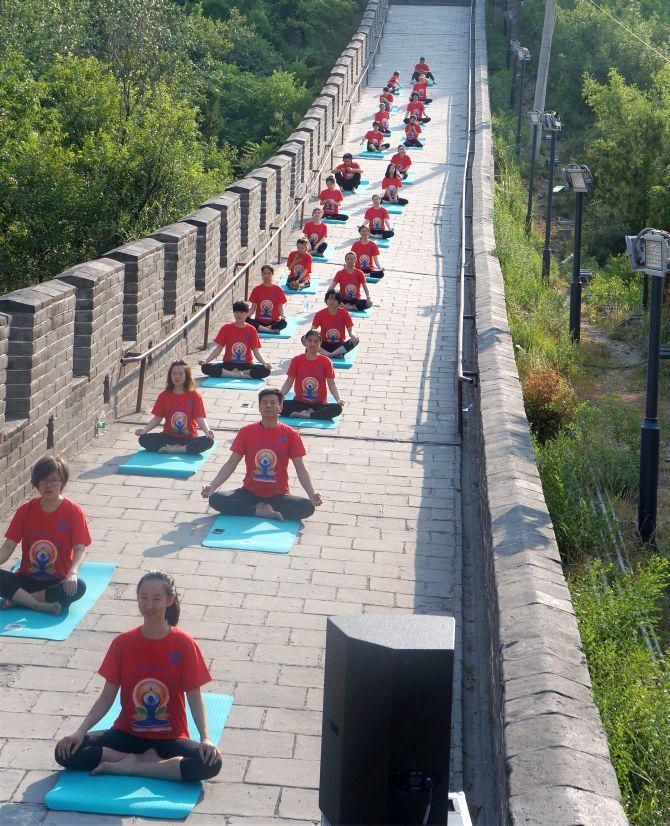 IMAGE:

Chinese yoga enthusiasts participate in a colourful yoga event at

China's iconic Great Wall.

Photograph: PTI Photo
On Sunday, Modi had shared photographs of practise sessions in the run-up to Yoga Day in several countries through his Twitter handle.
Pictures from places like Bhutan, Afghanistan, New Zealand, China and Japan are already being shared on social media.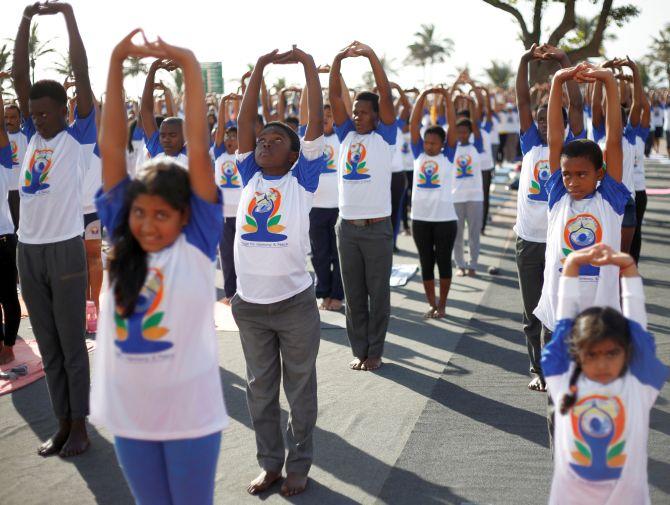 IMAGE: People participate in a group yoga session ahead of International Yoga Day in Durban, South Africa. Photograph: Rogan Ward/Reuters
In Delhi, eight events have been planned in the national capital with the main event being held in Connaught Place.
The New Delhi Municipal Council will be organising events at Connaught Place, its six radials and inner circles and at the city's three gardens -- Lodhi Garden, Nehru Park, Talkatora Garden and Childrens' Park at India Gate.
Events are being planned in each district in the country. Besides, various departments, state governments and institutions will also be conducting their own programmes.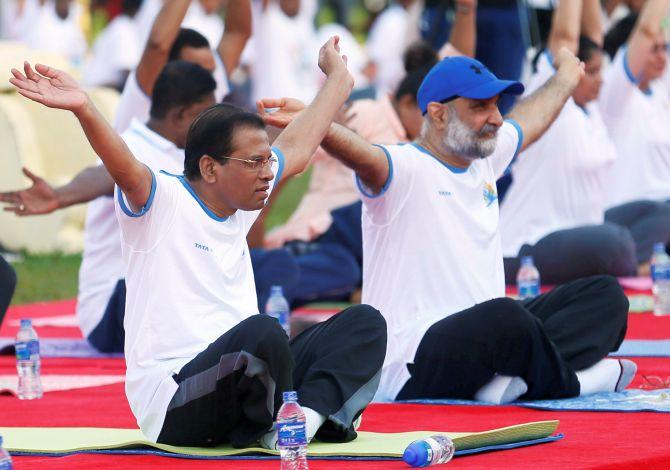 IMAGE: Sri Lanka's President Maithripala Sirisena and Indian High Commissioner to Sri Lanka Taranjit Singh Sandhu perform yoga at an event to mark the International day of Yoga in Colombo, Sri Lanka. Photograph: Dinuka Liyanawatte/Reuters
The PM's Award for Outstanding Contribution for Promotion and Development of Yoga at the national and international level will be given on Wednesday to individuals and organisations.
The centrepiece of the first IDY celebration on June 21, 2015 was New Delhi's Rajpath. The event made it to the Guinness World Records with 35,985 participants performing asanas at one venue and 84 nationalities being part of it. Last year, the main function was in Chandigarh.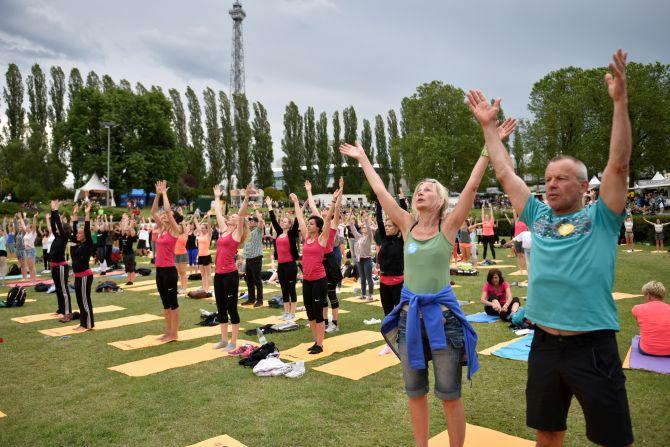 IMAGE: Events are to be celebrated in 150 countries across the world -- from Germany to China.
Photograph: Stefanie Loos/Reuters
The United Nations General Assembly had made a declaration in December 2014 that every June 21 would be observed as International Day of Yoga, a move that India lobbied hard for.