Spending Diwali with the the army and Indo Tibetan Border Police personnel in Sumdo, Narendra Modi also said that he had fulfilled the promise of implementing One Rank, One Pension to the ex-servicemen.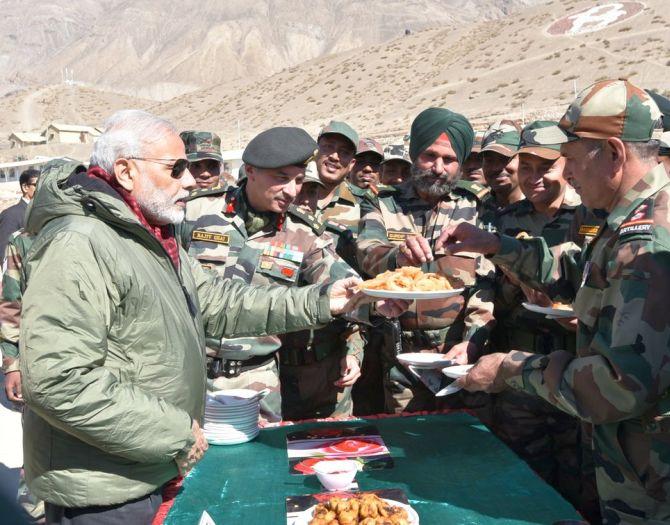 The first instalment of nearly Rs 5,500 crore has been paid for implementing the One Rank, One Pension scheme, Prime Minister Narendra Modi said while asserting that he has "fulfilled the promise" he made to ex-servicemen on the issue that has been hanging fire for the last 40 years.
The prime minister, while celebrating Diwali with the army and Indo Tibetan Border Police personnel in Sumdo, over 270 kilometre from state capital Shimla, also lauded the role of the security force personnel guarding and protecting the country.
"Spent time with our courageous @ITBP_official and Army jawans at Sumdo, Kinnaur district, Himachal Pradesh. Jai Jawan! Jai Hind!" he tweeted.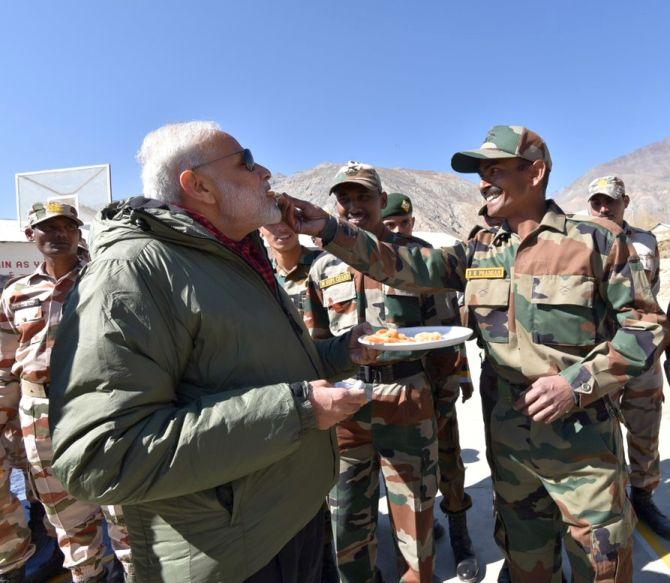 Earlier in his 'Mann ki Baat' programme on All India Radio, he saluted the valour of the armed forces and lauded their sacrifice while dedicating the festival of Diwali to them.
"The OROP was not about just Rs 200 or Rs 500 crore, but Rs 10,000 crore... After I became the PM, and decided that I had to do (implement) it, the entire government lost sleep over it... It was not possible for the government to pay in one go, so I requested the ex-servicemen to accept it in four instalments.
"The money will reach them in four instalments. Nearly, Rs 5,500 crore has been paid as the first instalment," Modi said.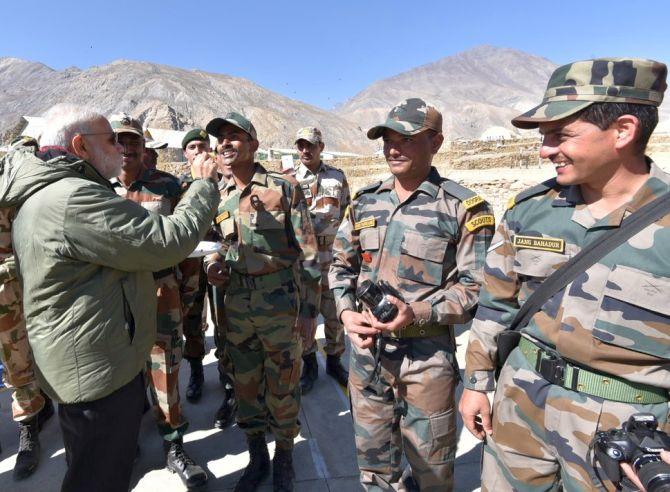 He said the issue had been pending for "40 years" as certain people in the previous governments "did not know" about OROP scheme, and therefore "only Rs 500 crore was allocated" for the purpose.
Modi also said that many people thought that if the scheme was not implemented, a section of "ex-servicemen would turn against the government".
The prime minister, on his way to Sumdo, met civilians at Himachal's Chango village, close to the Sino-Indian border.
"Made unscheduled stop at Chango village, close to Sumdo, to wish people on Diwali. Was deeply touched by the impromptu reception & their joy," Modi tweeted.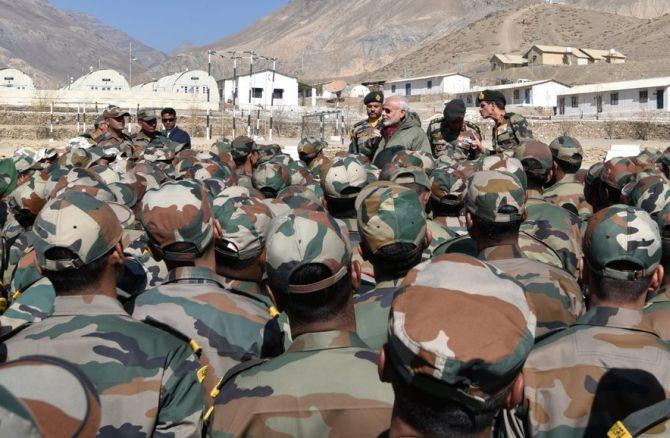 "The prime minister spent time with ITBP jawans and personnel of Dogra Scouts of army at Sumdo on border of Kinnaur and Spiti, and distributed sweets to them," an official said.
Modi also met personnel of the General Reserve Engineering Force, a branch of Border Roads Organisation, entrusted with construction and maintenance of border roads and also executing the Rohtang Tunnel project, the official said.
After coming in power in 2014, Modi had celebrated his first Diwali with soldiers posted in Siachen, and in 2015, he celebrated it at the India-Pakistan border in Punjab.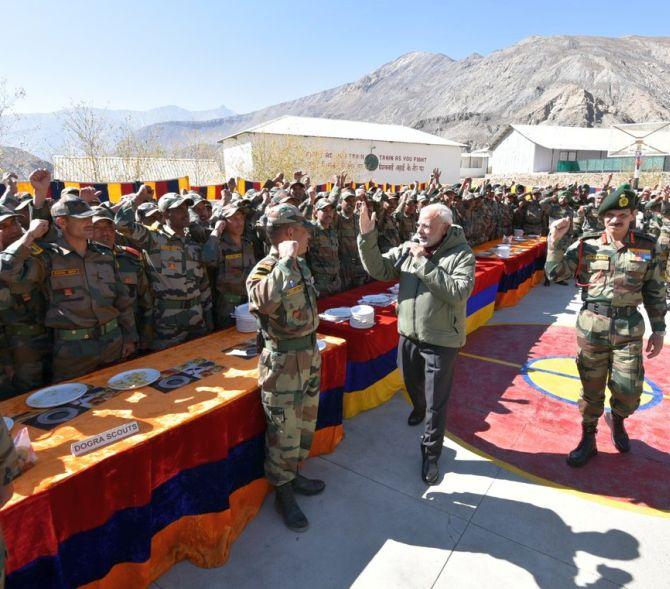 Earlier last week, Prime Minister Modi launched a campaign named 'Sandesh2Soldiers' to send Diwali greetings to those serving at India's borders.
"I sent my #Sandesh2Soldiers. You could also do the same. Your wishes will certainly make our forces very happy. This Diwali, let us remember our courageous armed forces who constantly protect our nation. Jai Hind. When 125 crore people stand with soldiers, their power increases by 125 crore," he tweeted then.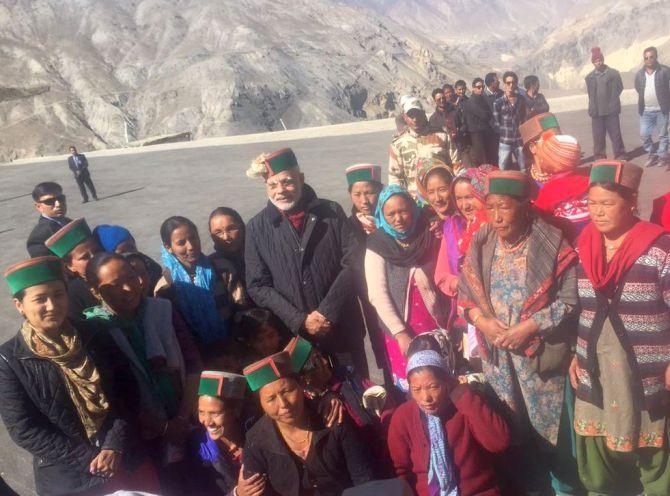 Prominent celebrities like film actors Aamir Khan and Akshay Kumar as well as several Union ministers have sent messages tagging Prime Minister Modi during the course of this campaign.
Modi also said that implementation of OROP was his "dream", which has been "fulfilled".
Noting that everyone wants to celebrate Diwali with their loved ones and that is why he had come in Sumdo, he said after the Gujarat earthquake in 2001, he celebrated Diwali at that time with the quake victims.
"So it is not that I am doing this after becoming the prime minister," he said.
Lauding the role of the personnel of various services, Modi said that while other people look for career, they (the services personnel) look for an opportunity to face the enemy.
"When you (jawans) are awake, they (the people) sleep. If you do not keep awake, the people will not be able to sleep (peacefully)," he said, adding that the forces make the nation proud.
-- With inputs from Agencies
Photographs: @narendramodi/Twitter