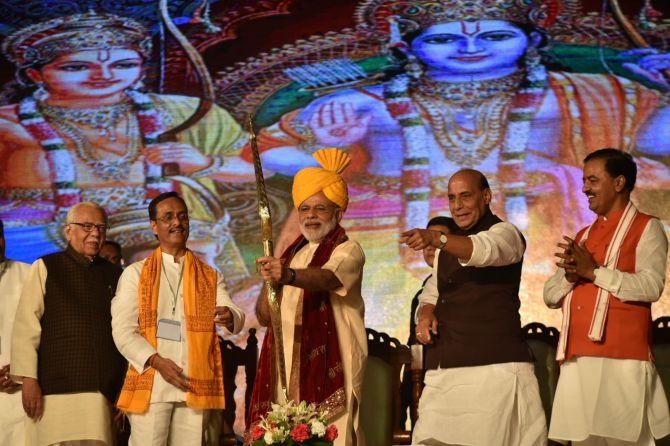 IMAGE: Prime Minister Narendra Modi being presented symbolic bow and arrow on stage at Aishbagh Ramleela in Lucknow on Tuesday. Governor of Uttar Pradesh Ram Naik and Union Home Minister Rajnath Singh are also seen. All Photographs: PIB India

Breaking from tradition, Prime Minister Narendra Modi on Tuesday attended the historic Ramleela celebrations in Lucknow where he launched a veiled attack on Pakistan, saying those who help and provide shelter to terrorists cannot be spared, but made no reference to the surgical strikes.
Making terrorism the centrepoint of his over 20-minute speech, he said terror was the worst enemy of humanity and called upon the world community to speak in one voice against the menace to put an end to it.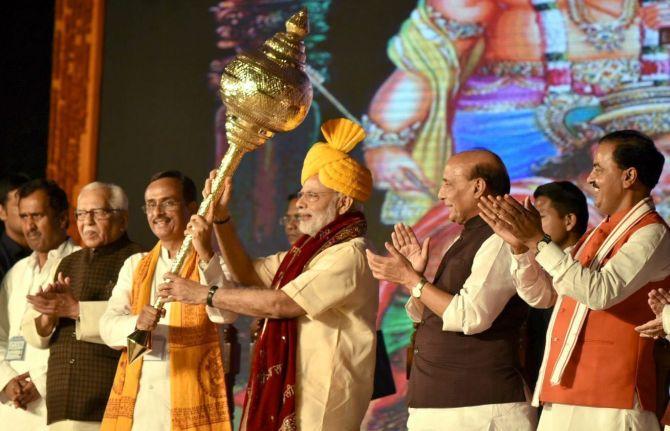 IMAGE: Prime Minister Narendra Modi being presented a mace as he is welcomed on stage.
"Terrorism does not have any boundaries. It is bound to destroy all...a need has arisen to root out those who spread terrorism. Those who help terrorists and provide shelter to them can no longer be spared," he said in an obvious reference to Pakistan without taking its name.
"Terrorism is against humanity. The entire world is being destroyed...if you think that we are insulated against terrorism, then we are wrong. It is a virus affecting our societies. All forces across the world have to talk in one voice and end it. It will not be possible to save humanity without eradicating terrorism," the prime minister said.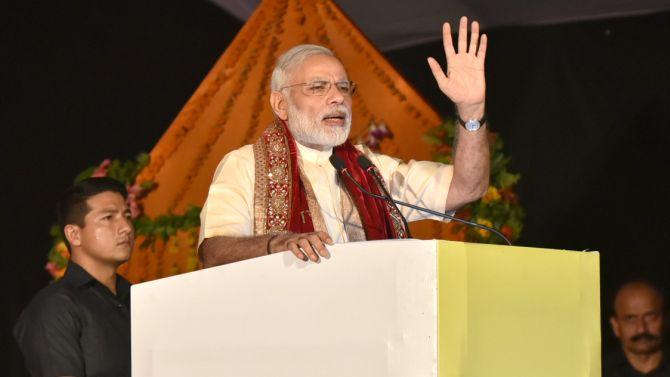 IMAGE: The PM addresses the gathering.
"No one should have this misunderstanding that they are safe from terrorism as terrorism has no boundary, no morality, it can go anywhere and it is bent upon crushing humanity...it is essential for all to come together against terrorism," Modi said.
"The entire world is being harmed. For the last two days we are seeing the picture of a little girl of Syria....and so today, when we are burning Ravana, all human forces as one will have to resolve to fight terrorism as humanity cannot be saved without bringing an end to it," he said.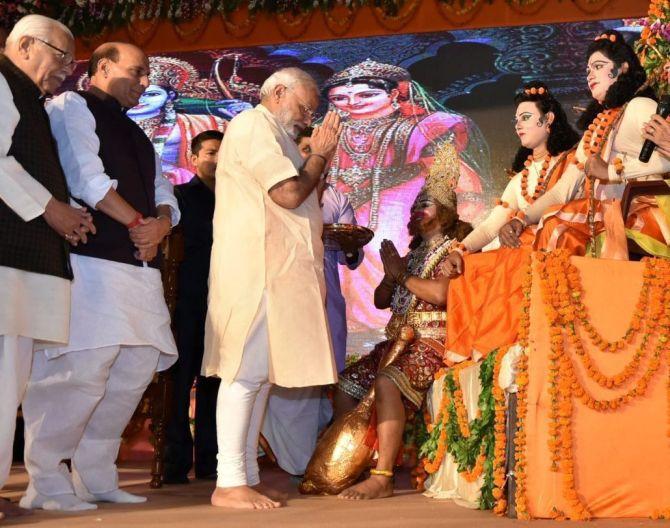 IMAGE: The PM performs traditional puja at the Ramleela.
Modi recalled his meeting with a top US official who had then not recognised terrorism as a problem and had instead termed it as a law and order issue. He said the world's perspective towards terrorism changed after 26/11 Mumbai terror attacks.
He also urged the people to remain vigilant against terrorists, saying their attempts to carry out attacks can be thwarted by alert citizens.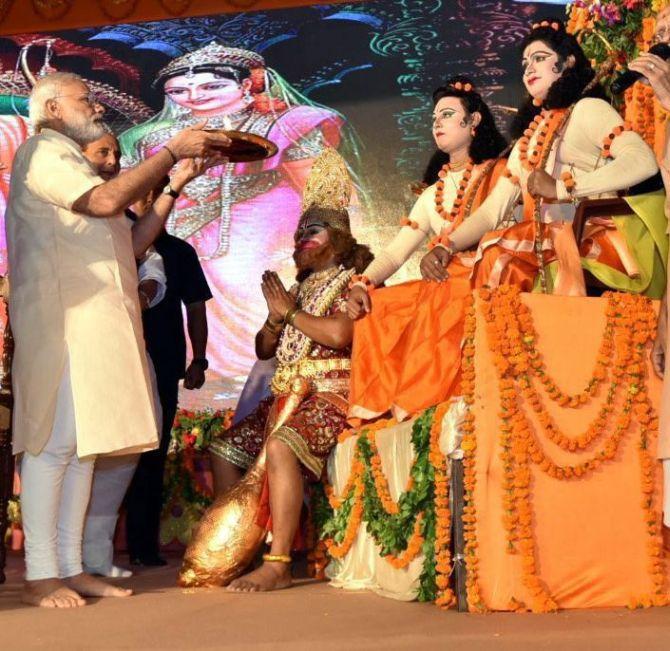 IMAGE: Modi performs aarti of artists enacting Lord Rama and Lakshman.
While celebrating Dussehra, which signifies victory of good over evil, the Prime Minister said Lord Ram represented humanity and its rich values and traditions.
He said the first person to fight terror was neither a soldier nor a politician, but the mythological bird Jatayu who fought against Ravana to protect a helpless Sita, whom he was trying to kidnap.
Noting that war at times becomes inevitable due to prevailing circumstances, he said India is a country which follows the principles of peace as taught by Lord Buddha.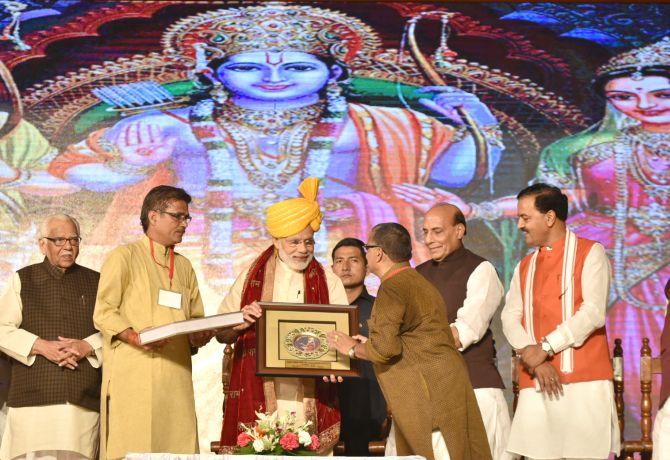 IMAGE: The PM and others being welcomed on stage.
"We balance between the Mohan of the Sudarshan Chakra, and the Mohan of the Charkha (Mahatma Gandhi)...we are the people who have seen yuddh (war) and Buddha. We can go from yuddh to Buddha. Buddha's path (of peace) should be our final path," he said.
Terming castiesm, communalism and nepotism as the forms of social evils present inside people, he said and there is a need to get rid of these 'Ravanas'.
Modi said on side the country was celebrating Vijaydashami and on the other the world was observing the day of the girl child today and called upon people to end the menace of female infanticide and feoticide.
Modi became the first prime minister to attend a Ramleela event outside Delhi and his participation at the Aishbagh celebrations assumes significance in the context of assembly elections in Uttar Pradesh early next year.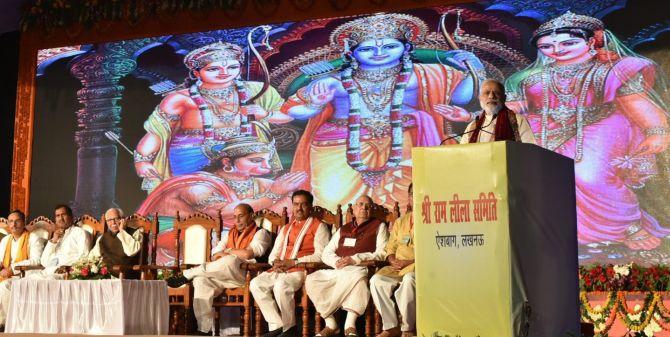 IMAGE: PM addresses the gathering as other guests look on.
"We have pledged to burn Ravana's effigy every year for abducting Sita. But we continue to discriminate between the male and female child. It should end. Who will end the Ravana inside us that kills many Sitas inside a mother's womb. We should stop killing Sitas in this 21st century," he said.
He said women athletes brought laurels to the country in the recently-held Rio Olympics and they are a fine example of what girls can achieve.
Modi also used his speech to drive home the importance of sanitation and called for a fight against the social evil of manual scavenging which continues to exist despite efforts.
Using the occasion, Modi said just as we burn Ravan every year, people should draw lessons from the tradition by taking a pledge to end all evils from our lives.
The theme of this year's Dussehra in Aishbagh was 'destruction of terrorism'. In the run up to the event on Tuesday, there have been many references to the surgical strikes by characters enacting Ramleela.
In significant gestures, Modi was presented a Sudarshan Chakra, bow and arrow and a mace at the event, symbolising valour.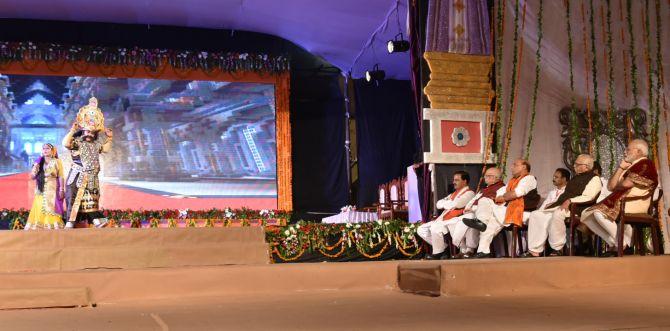 IMAGE: The PM, the Union home minister, the governor and others watch the Ramleela.
Highlighting the significance of Uttar Pradesh, which goes to polls early next year, Modi said this land has given us Ram and Krishna.
Modi began and concluded his speech with chants of 'Jai Shri Ram; Jai, Jai Shri Ram' the slogan often heard at the height of Ram temple movement. BJP has in recent elections, however, desisted from making the Ram temple issue an electoral plank.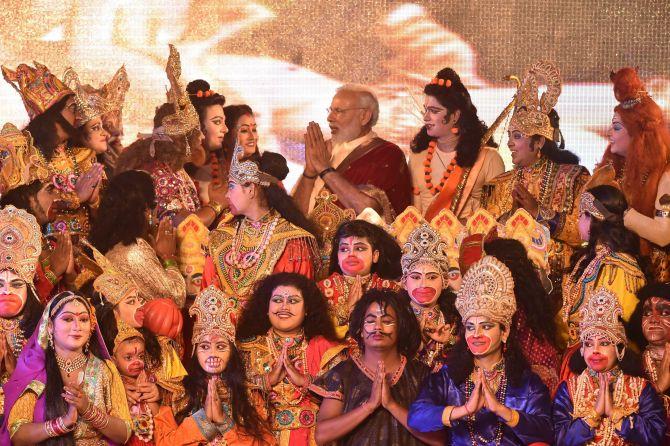 IMAGE:

Prime Minister Modi interacts with the artists at Aishbagh Ram Leela. Photograph: Nand Kumar/PTI Photo



Earlier, Home Minister Rajnath Singh, who also represents the Lucknow constituency in Lok Sabha, thanked the Prime Minister for being successful in eradicating corruption and for enhancing the country's image across the world.
"Wholesale corruption was at its peak earlier. I thank the PM for being successful in eradicating corruption," he said, apparently targeting the previous Congress-led government.
He said Modi has also helped improve India's global standing by showing to the world its strength.