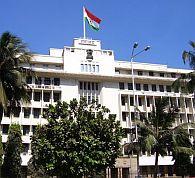 Five Nationalist Congress Party and an Independent legislator, were on Tuesday sworn-in as ministers in the Maharashtra government as part of the much-awaited reshuffle.
While Madhukar Pichad and Shashikant Shinde of NCP and Dilip Sopal (independent) took oath as cabinet ministers, Suresh Dhas, Uday Samant and Sanjay Savkhare were inducted as ministers of state.
They were administered the oath of office and secrecy by State Governor K Sankaranarayanan at Raj Bhawan in Mumbai.
These new ministers come in place of Ramraje Naik Nimbalkar, Babanrao Pachpute and Laxman Dhobale (all cabinet) and Bhaskar Jadhav, Prakash Solanke and Gulabrao Devkar (all ministers of state), whose resignations have been accepted.

The three new faces in the cabinet are: Savkhare, Samant and Shinde. Sopal, a former NCP leader, has earlier served as minister of State for Law and Judiciary.
Pichad is from Akole in Ahmednagar, Shinde from Koregaon in Satara, Sopal from Barshi in Solapur, Uday Samant from Ratnagiri and Savkhare is from Jalgaon district.
NCP chief Sharad Pawar had last week sought resignations of all party ministers in the state ministry. On Monday night, Deputy CM Ajit Pawar handed over the list of ministers to be dropped/inducted to Chief Minister Prithviraj Chavan.

Pichad said that those ministers who have been dropped will be drafted for party work
Meanwhile, Deputy Chief Minister Pawar brushed aside criticism that "tainted" ministers have been retained in the reshuffle.

In politics, Opposition levels all kinds of allegations, but until proved legally, they have no meaning, Pawar told media persons.
"In the UPA government, allegations have been made against ministers and even in 1995, allegations were made against Sharad Pawar," he said.
When asked if the NCP list of ministers has his stamp, Ajit said it is wrong to presume like that.
"I was not aware of the new entrants till late last night. Pawar Saheb informed me last night to forward the names of ministers whose resignations have been accepted and the new list of those to be sworn-in," he said.

No particular MLA is close to me. All decisions are taken by (NCP chief) Sharad Pawar, he said.
Ajit said Madhukar Pichad is the senior most leader in the party who has been reinducted into government while the rest are new faces with one to two terms as MLAs.
When asked about the new state NCP unit president, Ajit said, "Sharad Pawar has asked the ministers to be in government only. I thought R R Patil would be entrusted with the job of state president. But Pawar Saheb is of the view that a fresh young face to lead the party should be chosen. All the decisions including reshuffling portfolios will be taken by him."
Meanwhile, Opposition leaders stayed away from the swearing in ceremony.