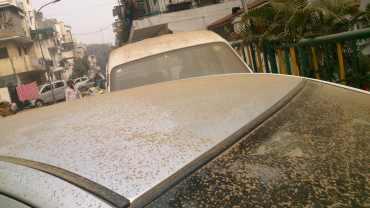 Residents of south Delhi's Okhla area were delighted to see what they thought was the season's first snowfall. But they were enraged after realising that it was toxic ash from a large waste-to-energy plant operated by Jindal Ecopolis in the neighbourhood. 
A group of residents drove up to the plant and demanded immediate stoppage of work. The plant has been functioning from March without proper clearances from the Central Pollution Control Board, according to the Toxics Watch Alliance.
Representatives of the plant visited the residential area and took away samples of the thick grey-brown ash for analysis. They assured the residents that steps would be taken to reduce the ash.
The plant is surrounded by a number of other industries.
A 31-page report of the Union Environment and Forests Ministry said that the waste-to-energy plant has violated every rule in the book including environmental clearance conditions.
On July 19, 2011, the Delhi high court asked the Central Pollution Control Board and the Delhi Pollution Control Committee to conduct a joint inquiry into the plant and file a report on the allegations that it posed health risks to citizens. However, this has not been done so far.
There have been incessant demonstrations and protest rallies against this project.

The Municipal Corporation of Delhi, the Delhi government and central government have shown unpardonable callousness towards hazardous emissions from municipal incinerators that cause serious environmental and health problems both to people living near them and thousands of kilometres from the source, said the Toxics Watch Alliance in a statement.  

Image: Toxic ash is seen on the rooftop of vehicles in Okhla