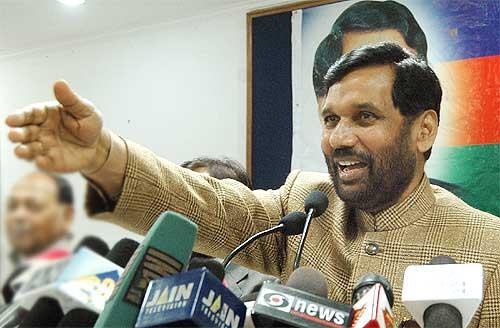 Nearly 12 years after he left the National Democratic Alliance and resigned from the Atal Bihari Vajpayee government after the Gujarat riots in 2002, Lok Janshakti Party chief Ram Vilas Paswan will share the dais with Gujarat Chief Minister and Bharatiya Janata party's prime ministerial candidate Narendra Modi at his 'hunkar' rally in Bihar's Muzaffarpur town on Monday.

Paswan, who joined the NDA last week to contest the Lok Sabha polls and took a U-turn on Modi, will appear in public with the BJP's top brass including Modi at the rally. Paswan's son Chirag will also be present at the function.

Upendra Kushwaha is another new face that will be at the event. Kushwaha is the chief of the Rashtriya Lok Samata Party (RLSP) that joined hands with the BJP last week.

Both Paswan and Kushwaha are known as their own caste. Paswan is said to enjoy overwhelming support of his caste -- locally known as Dusadh, the only Dalit caste in Bihar after Chief Minister Nitish Kumar categorised 21 other Dalit castes as 'Mahadalit' -- poorest of the poor.

Kushwaha has been trying hard for last few years to emerge as a leader of his caste -- Koeri, an agrarian backward caste spread across the state.

A senior BJP leader said that presence of Paswan and Kushwaha will send a strong political massage among respective castes in Bihar. "It will strengthen the BJP's social support base in Bihar," he said.

In Bihar, the BJP is widely seen as an upper caste party. The much-hyped rally is seen as a bid to mobilise support and strengthen the support base in the state.

The state in the Hindi heartland that sends 40 Lok Sabha members to Parliament is politically very important. In the 2009 Lok Sabha polls, the party had won 12 seats, while the Janata Dal-United won 20 seats, when they had contested as a combined force.

It is expected that Modi will target Kumar, who has openly opposed him by repeatedly saying that the prime ministerial candidate should be of nsecular credentials.
Meanwhile, Muzaffarpur District Magistrate Anupam Kumar said that foolproof security arrangements have been made for the Modi rally. Kumar said that the administration was not leaving anything to chance for the rally in view of the serial bomb blasts in and around his rally venue in Patna last year that killed six people and injured nearly 100
Additional Director General (Special Branch) Sunil Kumar said that the police have taken all precautionary measures to ensure Modi's safety. "We have mounted unprecedented security at all the 25 entry points of the venue, which are being fitted with metal detectors," he said.