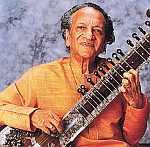 Sarod superstar Ustad Amjad Ali Khan pays tribute to sitar maestro Pandit Ravi Shankar
So 12.12.12 has done its damage! And what a loss! I just landed in Mumbai for the release of my book and I heard this tragic news (the death of Pandit Ravi Shankar).

Teenon 12 uthakar le gaye itne bade sitare ko (The number 12 has taken away such a star). Another great classical musician Pandit Manas Chakraborty also passed away on 12.12.12. Both were from Bengal.

I used to affectionately call Pandit Ravi Shankar Dada -- elder brother. He was like my guru bhai.

My wife Subhalakhsmi and Panditji's wife Sukanya are great friends. Sukanya calls my wife Akka -- elder sister. We attended numerous music festivals together.

If the sitar is today regarded so highly it's because of Pandit Ravi Shankar. His name is synonymous with the sitar.

Panditji's first guru Ustad Allauddin Khan and my guru Ustad Hafiz Ali Khan Saab were 'guru bhais'. Both were trained by the same guru from Rampur. They both hailed from the Senia Gharana.

So Panditji and I were musically related. On a personal level, we were constantly in touch. I've been to his house in the United States and India and he has visited our home.

Some years ago, when I was performing with the Scottish Chamber
Orchestra, Panditji came and sat in the audience to watch the concert and after the performance he waited outside the green room to meet me. He possessed all the qualities of a great artiste including humility and grace.
I had performed at the concert for his 75th birthday in Los Angeles. In Varanasi, I would visit the music festival hosted by him every year. Panditji was a miracle man. God was really kind to him. He achieved all that he desired to.
Panditji took Indian classical music to the West. The Beatles played a very important part in his life and music. I think he is the only Indian musician who was known all over the Western hemisphere.
The minute one hears the word 'sitar' the name Pandit Ravi Shankar comes to mind. I credit his wife Sukanya for his success. She really took really good care of him. I am sure their daughter Anoushka will carry her father's legacy forward. We're very fortunate that we have 10-12 very talented young sitar players to carry Pandit Ravi Shankar's legacy forward, like Shahid Parvez, Niladri Kumar, Shujaat Khan etc. And of course Anoushka.
The future of the sitar is ensured. The tradition of classical music of Miyan Tansen and Swami Haridas will continue. But masters like Pandit Ravi Shankar will never be born again.
Khuda kare unki punjee ko bachche hifaazat se rakhen
(May God keep the legacy safe and secure).
As told to Subhash K Jha